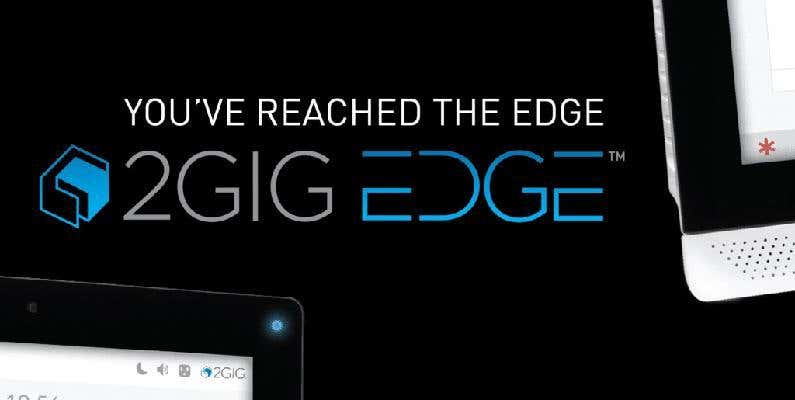 What's So Innovative About the 2GIG EDGE Security and Automation Panel?
The 2GIG EDGE takes 2GIG alarm panel technology to a new level. Features include touchless disarm and built-in face recognition. Also built into the panel are an on-board camera, two-way audio, a cellular radio and a glass break sensor.
The 2GIG panel also offers a large viewing area with higher resolution in a sleek design that, despite the panel's powerful capabilities, is thinner than ever.
What are the benefits of the 2GIG EDGE security and automation panel?
Built-in face recognition provides touchless disarm, eliminating the need to put down grocery bags or other items to disarm the system.
Easy installation and programming. The programming interface provides quick and easy access to the critical features that must be enabled, while also providing the flexibility to adjust to the requirements of individual jobs.
Data privacy. Facial recognition and other analytics are built into the 2GIG panel itself, rather than stored in the cloud, thereby keeping private data private.
Encrypted sensors. 2GIG sensors help eliminate system hacks and prevent account take-overs. The panel is backwards compatible with older 2GIG and Honeywell sensors.
Smart home capabilities. The EDGE panel supports smart home rules, scenes and notifications so installations can be customized for each individual customer's needs. Works with a large ecosystem of Z-Wave devices and can be voice controlled through Google Assistant, Amazon Echo and Siri Shortcuts.
Live viewing of video. Works with up to eight cameras and/or doorbell cameras, with up to four camera feeds viewable simultaneously.
2GIG Tech Support is available by phone and via email. The company strives to answer all email inquiries within four hours.
The 2GIG EDGE security and automation panel is available at your local Security Equipment Supply (SES) branch. Security Equipment Supply is a leading security hardware distributor. We handle residential/commercial alarm equipment, as well as access control, video and fire protection equipment and more. SES has 13 fully stocked branches across the U.S. and a dedicated team of account representatives ready to assist you!