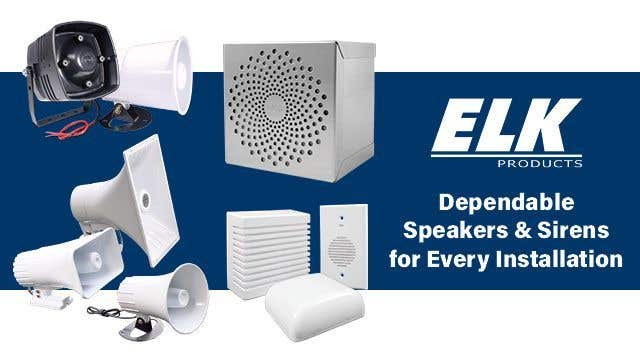 30 Years of Dependable Speakers and Sirens
In 1993, ELK Products was founded with a mission to build better speakers and sirens for security professionals. They set out to make an outdoor, enclosed speaker that is not only compact and functional but also maintains an aesthetically pleasing appearance, even after years of service. The ELK-1RT speaker was born and soon followed by the ELK-150RT siren.
The ELK-1RT and ELK-150RT were designed to tackle a variety of issues found with other units in the market at that time. The stainless steel enclosure resists corrosion and reflects the mounting surface, blending easily into the surroundings. The back plate holds parts during installation, leaving hands free for wiring. Dual tamper switches protect against vandals and intruders. A protective mesh prevents insects and foam from penetrating the enclosure. With the rugged, compact design and corrosion-resistant stainless steel construction, these sirens and speakers are perfect for any installation, even in harsh environments.
With the success of the stainless enclosed speakers & sirens, ELK completed the line with a series of strobes for a visual indication of alarms and warnings. These strobes were designed to beautifully complement the speakers/sirens and use a single stainless bolt to mount to the bottom of the stainless enclosure. This bottom-mounted design increases the visibility of the strobe. ELK's strobes are available in 4 colors: Clear (ELK-SL1C), Amber (ELK-SL1A), Blue (ELK-SL1B), and Red (ELK-SL1R)
It soon became clear, the compact speaker and siren units developed for the ELK-1RT and ELK-150RT would be great for tight spaces and easy to conceal. These speakers and sirens could be easily installed in overhangs, soffits, and crawl spaces. The ELK-44 speaker rivals the sound of larger speakers. The ELK-45 siren provides distinct siren sounds for burglary and fire from a single input. The ELK-M120 was added to the mix. This mini horn-style siren offers steady and yelp tones.
It was time to move inside and rethink the traditional interior speaker and siren design. ELK wanted to create a surface mountable speaker that could blend in with the décor of any room. The Echo™ series of speakers and sirens do just that with a smooth paintable surface and a unique design that allows sound to echo off the mounting surface. The original series consists of the ELK-70 speaker and the ELK-71 siren. Compact versions were added; the ELK-73 speaker and ELK-74 siren. All four units can be mounted to any flat surface or single gang electrical box.
Some installations require a more discrete approach. The ELK-SP12F flush mount speaker makes it easy to install discrete speakers in every room. The wall plate size and low profile design allow this speaker to easily blend in. ELK also considered ease of installation.
The ELK-SP12F fits a single gang electrical box, and at 32 ohms, more speakers can be connected in parallel, making wiring a snap!
ELK's full line is rounded out with a series of horn-style speakers and UL listed sirens. The horn-style speakers provide clear sound for voice & alarms and offer versatility for exterior or interior use. They come in a variety of sizes; ELK-SP15 (15 watt), ELK-SP30 (30 watt), and ELK-SP40 (40 watt). The UL listed sirens offer dual tones, steady and yelp, with three models available; ELK-SS15 and ELK-SS30, both exterior/interior units, as well as the ELK-SS36 surface mount interior siren.
All of ELK's speakers and sirens are pre-wired for easy installation. Every unit is built to last with quality construction and backed by ELK's Lifetime warranty. Get full product details at https://www.elkproducts.com/speakers-sirens-strobes/