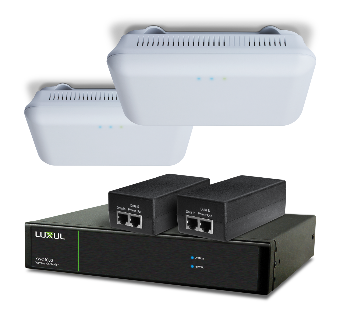 Luxul Wireless Controller Kit
Looking for a secure wireless controller kit for your customers office space, to ensure mobile users Wi-Fi access without interruption at consistent speeds? If so, Luxul has created a Wireless Controller Kit that covers everything your customers might be looking for to meet their wireless needs. This wireless controller kit has lots to offer and includes a total of 5 products in one kit, available at your trustworthy security equipment distributor, SES. The controller uses Luxul's exclusive Roam Assist™ technology to help your customers on the go. Not only that, but it can also provide seamless roaming and up to 16 AP's through an easy to use wizard setup. 
What does this kit include exactly?
This kit includes (1) LUX XWC1000 Controller, (2) 1510 AP's, and (2) Injectors. It is built simply for the purpose to help meet the needs of residents or professionals, and this kit works with any combination of Luxul APs. The controller also features a 3-year limited warranty. Get this kit, and the rest of your security supply needs, to create your secure guest network!
Part number: LUX XWS2510