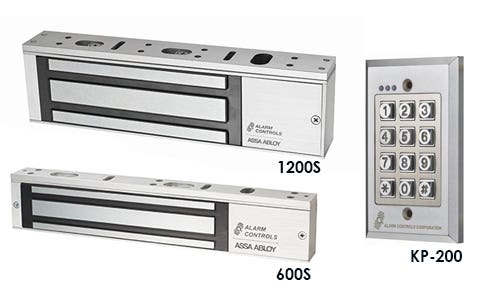 Alarm Controls – Value Solutions From Front Gate to Front Desk
Are you in the market for access control solutions at an exceptional value? Alarm Controls offers electromechanical products that range from maglocks and accessories, to request to exit stations and push buttons, to specialty products for supporting emergency panic stations and securing hazardous locations.
With a full line of access control products that fit any project and come at an affordable price, Alarm controls should be your one-stop-shop for access control solutions. Check out the following access control solutions that can help secure and control any opening from the perimeter of the property to the interior:
Perimeter: Products used to secure facility boundaries are certified for outdoor use. Weatherproof and vandal resistant keypads work together with weather-resistant electromagnetic locks to create the perfect perimeter access control solution.
Exterior Doors: Make sure to protect high traffic access points leading in and out of any facility. Push plates, delayed egress, motion sensors, electromagnetic locks and electric strikes will help create a solution to keep exterior doors protected.
Interior: Glass/aluminum doors, storage rooms, and office doors all require different security levels and application types. Utilize pneumatic time delay push buttons, keypads, electromagnetic locks or electric strikes to fit the requirements of each opening.
Central Monitoring/Command Center: Utilize one main location to control and supervise multiple entry points. Quickly lock down and secure everything from entire schools and office buildings to specific individual interior spaces.
Power: Alarm controls will fit the needs of most products and applications by offering a UL listed switching power supply.
Click here to start selecting the right products for your application.