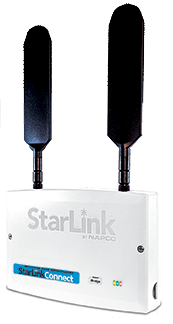 Looking for an Alarm Communicator To Upgrade Honeywell Vista Panels?
Do you install or manage Honeywell Vista® intrusion panels or DSC® intrusion panels using DLS software? Are you concerned with sunsets and disappearing POTs* lines? Thankfully Napco has just released the new StarLink Connect DL cellular communicator that offers the perfect solution to the problem you're facing. The new StarLink Connect DL has the easiest migration path to update Honeywell Vista® and DSC® intrusion panel accounts to dual path cellular/IP reporting, while also enabling full programming and uploading/downloading via the familiar Compass® software.
The Napco SLELTEA-CDL StarLink Connect communicator is available for the AT&T® network, (a Verizon® model is coming soon). This new communicator from Napco is an easy to install cellular based communicator that requires no internet connection at the premises.
The Napco StarLink Connect communicator works with:
Any Honeywell Vista® intrusion panel communicating via Contact ID or 4/2.
DSC® intrusion panels currently using DLS software.
Features:
Dual path, IP & Cellular with optional Wi-Fi.
Painless migration path.
Enables full uploading and downloading.
Choice of any central station.
Preactivated to ensure communication - You'll know the product works before you're on site!
Easy panel powered installation - No additional power supplies or enclosures needed!
Best of all - Installation only takes 10-15 minutes using the StarLink Free for All Program™!
If you'd like to learn more about Honeywell Vista intrusion panels check out our blog here. Stay informed about new products, changes in the low voltage industry, and get notified of exclusive sales by signing up for our email list today!
*POTs = Plain Old Telephone service