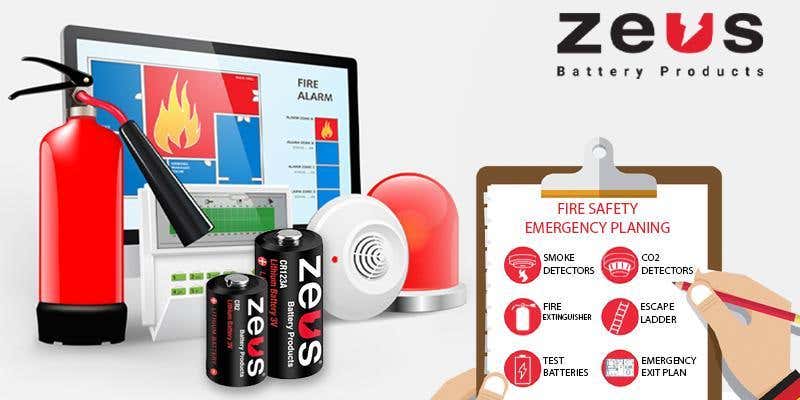 Batteries for Fire & Security Dealers
Lithium Manganese Dioxide (CR Series) batteries from Zeus Battery Products are the perfect choice to power low voltage panels for security, fire, access control and more! ZEUS PCL CR2Z and PCL CR123AZ Batteries offer many benefits to today's Fire and Security dealers. Used for low to moderate power specifications for consumer and industrial applications with long-life requirements and has no mercury content. These 3v batteries are easy to install and provide a long operating life.
Benefits of Zeus Batteries for Fire and Security dealers:
Lasts 7x Longer Lasting
High Energy Density
High Voltage
Excellent Stability
Environmentally Friendly
Shelf life & storage – Zeus CR Battery Series have a standard 10-year shelf life and are non-rechargeable.
Zeus Batteries are ideal for the following applications as well as many others:
Fire Alarm Systems
Security Panels
Access Controls
Emergency Lighting
Smoke and CO2 Detectors
Gate Access
Terminal Options:
These batteries can be processed with tabs or pins depending on requirements.
Custom Batteries:
Have an application in need of a custom battery product? ZEUS Battery Products is also the leading provider of custom batteries for security dealers, email sales@zeusbatteryproducts.com or call ZEUS today to learn more.
Want to place an order or get a quote?
Lithium Manganese Dioxide batteries from Zeus Battery Products work great with access control panels, fire alarm panels, security panels as well as plenty of additional applications. Lithium batteries have emerged as the most popular chemistry type in recent years. These batteries have a high energy density, enabling them to pack sufficient power in a small space. ZEUS PCL CR2Z and ZEUS PCL CR123AZ provide power you can trust and reliability you can count on. Delivering an unparalleled experience, Zeus Battery Products offers you the services of much more than a battery company. Their team brings over 65 years to each relationship they enter. This experience is drawn from all aspects of the battery and accessories field, ZEUS CR Lithium batteries are available to order at SES. Become a customer or speak to a local SES rep today to learn more!