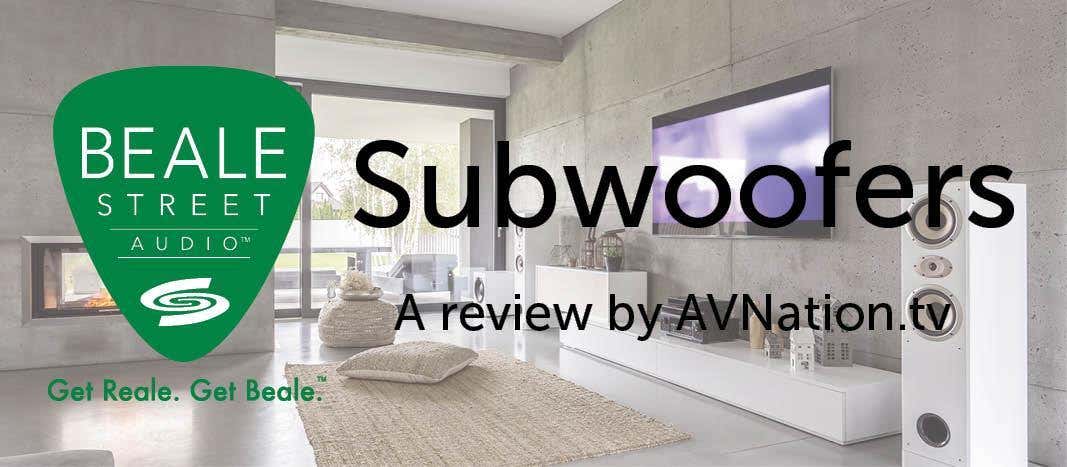 Beale Street Audio Subwoofers Reviewed
We all know going from a simple home entertainment system featuring a receiver and a few speakers to a more complex system including surround sound and subwoofers can be a big decision. In a recent article from AVNation.tv, Tim Albright, the founder of AVNation decided to test the Beale Street Audio BPS-65 6.5" subwoofer and the BPS-80 8" subwoofer in his own living room.
The project began with a 14' x 10' living room and a Sony 7.1 receiver powered stereo system. The next step was testing both the 6.5" (BSA BPS-65) and the 8" (BSA BPS-80) Beale Street Audio subwoofers in the space.
Connecting the Subwoofers
When discussing the connections for these subwoofers Mr. Albright said, "The connection points are incredibly versatile. You have the option of connecting mono or stereo RCA or speaker-level in from an existing amplifier unit. The speaker-level input also gives you a passthrough option."
Audio Performance
So how do the BPS-65 and BPS-80 subwoofers with patented Sonic Vortex technology sound?
When describing the BPS-80 8" Subwoofer Mr. Albright said, "it was a lot of bass. It wasn't overpowering, but it was close. Once I got the sub in the right position and system tuned, the 80 sounded great but I was only running it at about a 3-4 on a scale of 10. It's clear this model is capable of taking on larger spaces."
"The BPS-65 (6.5" woofer) was a much better fit for our space. It had an immediate smoothness and authority to it in our room right out of the box, and all from a tiny 6.5" driver – awesome."
Review in Summary
"As we get into the holiday season and your customers, and you, start looking at ways to outfit your home theater giving the Beale Street BPS-80 and BPS-65 a try would do you good. The form factors are shockingly small for the power they provide. The professional adjustments give integrators the freedom to tweak and adjust them for any size space. Overall, these are a great set of subwoofers that you'd do well to put in just about any theater, living room, or home office, regardless of size" - Tim Albright (Founder AVNation).
Want to read the full AVNation Review? You can check it out here.
Both the Beale Street Audio BSA BPS-65 and BSA BPS-80 are available for purchase at your local Security Equipment Supply. Become a customer to gain access to Beale Street Audio, Vanco and all of the great home entertainment products available on the market today!