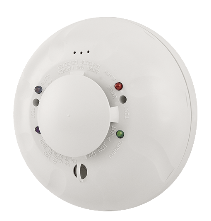 i4 Series Smoke/CO Detector
This i4 series by System Sensor provides detection for both smoke and carbon monoxide. In just one single device, your customers can have a smoke and CO detector, requiring less installation time and a cleaner look.
This combined, 2-in-1, indoor detector sends distinct smoke (Temp 3) and carbon monoxide (Temp 4) signals to the designated panel. There are 2-wire and 4-wire options available for this device. For more information, check out the link below or stop at your local go-to distributor for security equipment wholesale, SES.
Part number: SYS COSMO4W