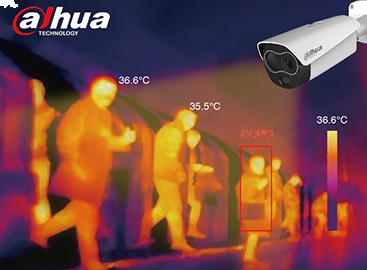 Dahua Thermal Temperature Monitoring Solution
This Thermal Temperature Monitoring Solution from Dahua offers the latest hybrid thermal network camera combining a 2 MP visible-light sensor with a Vandium Oxide sensor. A separate backbody calibration device maintains constant temperature as a point of reference for the camera and allows for customizable temperature thresholds. Deliver a contactless solution for detecting elevated body temperature (accurate up to 0.5° F) to your customers by combining the backbody calibration device with a thermal camera and a Dahua 4TB NVR!
Ideal Customers:
Dahua's thermal imaging solution is perfect for airports, clinics, hospitals, food processing facilities, or any large public gathering location.
Detection:
The thermal camera has a white light and external speaker that can to be triggered whenever the camera detects a user-defined event. It can even monitor temperature when people use face accessories or headwear, monitor multiple people in view, and helps reject false positives such as hot drinks.
Keep in mind that this thermal temperature monitoring solution is not FDA-cleared or approved so users should confirm the elevated body temperature reading via secondary evaluation methods.
System Setup:
During set up avoid deploying outdoors or in areas that have direct sunlight or backlight, reflective surfaces, high ambient temperature, or strong airflow. Areas in close proximity to appliances that may cause interference such as heaters, microwave ovens, and high-power lamps should also be avoided.
Watch the video below to see how the system works:
Dahua Thermal Temperature Detection Components:
DAH DHPFM320DUS DC12V - 2A Power Supply
DAH DHTPCBF3221NT - Thermal Camera Visible Lens
DAH DHTPCBF5421T - Thermal Camera Visible Lens
DAH JQD7OZ - Temperature Calibrator (Required by Camera)
DAH VCT999 - Tripod
DAH RQW02600 - Plate to Connect Camera to Tripod
Elevated Body Temperature Detection technology from Dahua and other manufacturers is available at Security Equipment Supply, a low voltage supplier of video surveillance, access control, and more. If you'd like more information, please contact your local SES branch today.