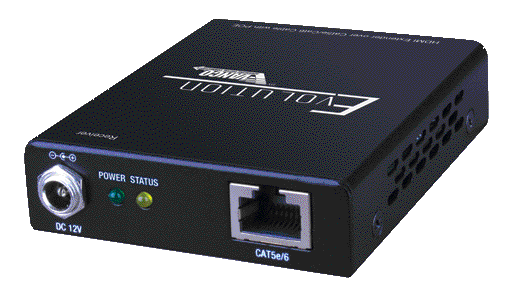 Deliver HD Resolution When Long Distances Exist Between Networking Devices
The Evolution by Vanco EVEX2006 HDMI Extender is ideal for transmitting full 1080p HDMI resolution when long distances exist between networking devices. The EVEX2006 offers installers increased flexibility when compared to traditional audio-video HDMI cables. The system can extend high definition video and audio signals over a single Cat5e or Cat6 cable at up to 164ft (50m). This product is typically more cost effective than HDMI fiber cables and helps reduce clutter created by bulky HDMI cables.
For more complex installs that require transmitting HDMI resolution between multiple sources and displays consider using the EVO-IP over HDMI system from Vanco. You can find our blog about the EVO-IP system here.
What's Included?
The EVEX2006 HDMI Extender includes both a transmitting unit (EVEX2006-TX), a receiving unit (EVEX2006-RX), (1) DC 12V in line power supply, as well as (2) IR Blasters and (2) IR receivers that compose a wide band Bi-directional IR system.
The transmitting unit captures HDMI input with IR signals and carries the signals between networking devices via one cost effective Cat5e/6 cable. The receiving unit is responsible for equalizing the transmitted HDMI signal and reconstructing IR signals.
Technology and Design
A wide band Bi-directional IR system allows users to control the connected source or display from almost anywhere in the building, even when the system is installed behind a wall or located somewhere out of sight.
Power over Ethernet (PoE) technology means the Vanco HDMI Extender only requires a single power supply at either the transmitter or receiver to provide the system with power. In addition to simplifying power supply, the EVEX2006 also requires no EDID or EQ adjustments, the system automatically adjusts to the correct compatibility and gain. The EVEX2006 extender is HDCP compliant and both DTS-HD and Dolby TrueHD audio formats are fully supported.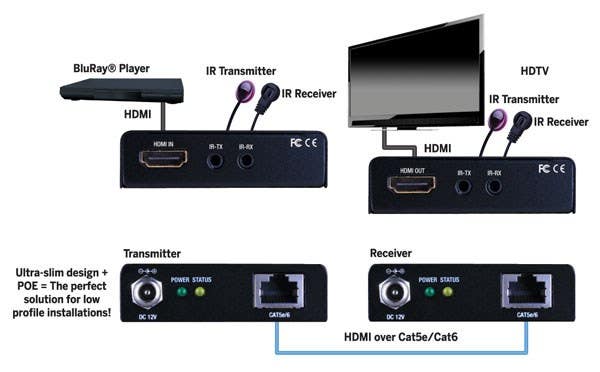 The Vanco EVEX2006 features a new ultra slim and compact chassis that measures only 0.7 inches thick. Thanks to the new compact design, PoE technology, and a Bi-directional IR system installations have never been easier!
If space is extremely limited behind the display units, consider using The ULTIMATE HDMI® Adapter – Right Angle Super Flex Flat HDMI® High Speed Male to Female Cable to ensure ease of installation.
Installation Tips
Try to ensure source and display resolutions are the same. If resolutions differ the system will attempt to adjust the signal to match the lowest resolution HDTV. This will result in lower resolution for every HDTV set connected to the EVEX2006 system.
Use the "setup" menu on the TV to make adjustments if audio and/or video signal is not present. (If a handshake cannot be established there will typically be no audio or video, or a blue/black screen that reads "this protocol not supported" or "weak signal"
Reset the receiver by disconnecting the power supply or all HDMI and power cables for 15 minutes.
Sometimes the latest software update is not present on certain players, audio/video receivers, or cable boxes. This update can typically be downloaded from the manufacturer's website.
Check out our article on Audio-Video HDMI Cables for installations with shorter distances between sources and displays. Make Security Equipment Supply your low voltage supplier and speak with one of our representatives today!