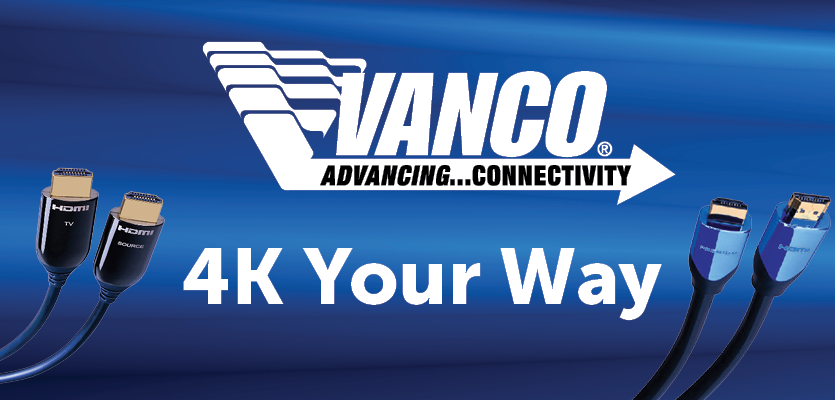 Do You Have the Correct Audio-Video HDMI Cables for the Job?
Whether you are upgrading a client's home entertainment system or completing a pre-wire installation, having the right equipment for each job is essential. Make sure your audio-video HDMI cable supply is stocked with Vanco cables for any installation situation that could arise.
Not all HDMI cables are created equal! There are a few different classifications when it comes to HDMI cables and knowing the difference could save you time, money, and hassle. The last thing you want is a customer calling you back to fix an incorrectly specified cable or poor performing connection.
Standard HDMI Cable
Designed to handle typical home entertainment applications such as DVD players and cable boxes.
Simple and cost effective.
Standard HDMI Cable with Ethernet
Same basic cable as the Standard HDMI, but with a dedicated data channel for device networking.
High Speed HDMI Cable
Tested to handle 1080p resolutions and beyond.
4K, 3D, Deep Color resolutions supported.
High Speed HDMI Cable with Ethernet
1080p, 4K, 3D, and Deep Color resolutions supported.
Dedicated data channel for device networking.
Which HDMI cable is right for you?
There are many options to choose from when looking at audio-video cables, why should you choose HDMI cables from Vanco? Vanco cables are tested at an HDMI authorized testing center, come equipped with a unique label to ensure customers are getting true HDMI in addition to the very best in quality, performance, and reliability.
Vanco design advantages:
EMI tested and shielded to minimize wireless interference
Braided coverage
360-degree metal case around the connector
100% Foil coverage to reduce interference
Gel molding to ensure connectors won't fall off
Triple Shielding; Braided, individually insulated wires, insulated ends
4K Cable Options:
The Ultra Slim Certified Premium High Speed HDMI Cable with Ethernet is much slimmer and much more flexible this year. This cable is certified to provide full 4K resolution in cable length ranges from 1.5 to 8 feet.
The Pro Series High Speed HDMI Cable with Ethernet provides full 4K resolution with lengths up to 25 feet! This cable is a great way to transfer full 4K video at a competitive price.
The main complaint from installers is they need longer cable lengths that provide full 4K with HDR. HDMI Cables previously maxed out at 25 feet, but with the Vanco Active High Speed HDMI Cable with Ethernet full 4K HDR is possible through a 50 foot HDMI cable.
For those in need of some serious cable length while also delivering full 4K resolution, consider using the HDMI Fiber Optical Cable from Vanco. The latest cable from Vanco can pass full 18 Gbps bandwidth through the cable. This bandwidth allows for full 4K @ 60 frames, 4:4:4 chroma subsampling, and high dynamic range (HDR). Lengths of the HDMI Fiber Optical Cable range from 35 feet all the way up to 330 feet in one single HDMI cable. This hybrid cable is also very thin and flexible to allow for easy installation.
Installation Tips:
Some HDMI cables are directional, make sure the cable is running in the correct direction before beginning any install
Sometimes using a Vanco 4K HDMI extender can be more cost effective than a single cable at lengths up to 164 feet
Vanco certified cables make sure installations are ready for today's 4K UHD environments and are future proofed for performance whenever equipment is upgraded or replaced. Check out these audio-video cables and other great products by Vanco at Security Equipment Supply, your local low voltage supplier.