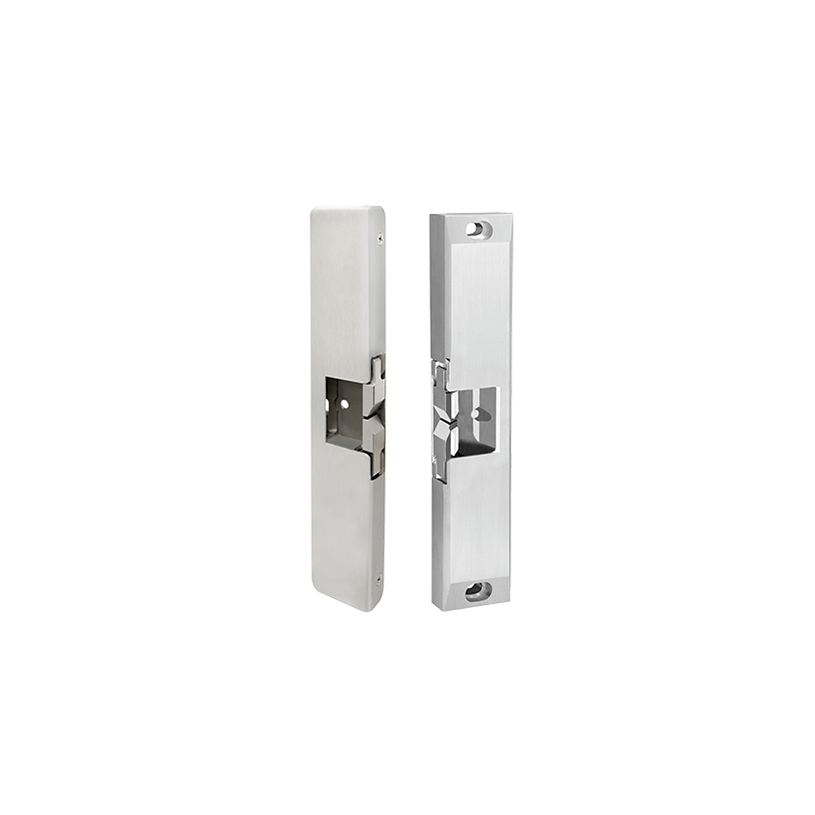 Electric Strikes for Exit Devices
Electric strikes can be installed in a wide range of swinging door applications!
Do you have a client looking to upgrade access control on perimeter gates and existing exterior doors? Pairing the right electric strike with an exit device can speed up installation and save money.
When searching for the perfect electric strike always consider a few factors first:
Determine frame type and health of the opening

What material the door is made of, if the door is hollow or concrete filled, or if any irregularities exist that can be fixed prior to installation. A few moments to double check could save time and hassle down the line.

Are there any special requirements when assembling the door?

Does the door need to be preload capable, fire-rated, outdoor rated, or windstorm resistant?

What type of hardware was used on the door previously?

Compatibility of electric strikes and functionality of the opening are dependent upon the existing locking hardware.

Why Use HES 9000 Family Strikes?
Assa Abloy's HES 9000 Family of surface mounted electric strikes are perfect for perimeter applications in Healthcare, Commercial Buildings, K-12 Schools, Office Spaces, and Aluminum Storefronts! Electric Strikes from the HES 9000 Family are available with the ASSA ABLOY logo, eight different finish options, and an industrial beveled edge that together present a more polished appearance. Installation for each strike in the HES 9000 Family has never been easier thanks to an update to the 9000-MTK Metal Template Kit.
All HES 9000 Surface Mounted Electric Strikes are Grade 1, dual voltage, non-handed and field selectable for fail safe or fail secure. Backed by an exclusive five-year no fault warranty from SecuriCare, which is upgraded to the SecuriCare 10-year no-fault warranty when purchased with a Smart Pac III®.
Installer Benefits:
Convenient and cost effective means of electrifying a new or existing opening with an Adams Rite Rim Exit Device
Installation is now even easier thanks to the HES 9000-MTK, 9000 Aluminum Spacer Bracket, and 9000 Space Plates
Reduced installation time without the need for door modification, wire transfers, or a dedicated power supply
Looking for help selecting the perfect electric strike? Give us a call and an SES representative will make sure you have everything you need for this project and future installations! An Electric Strike Selector Guide can also be found here.