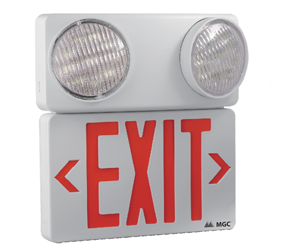 Emergency exit lighting from Mircom, now available at SES
SES now carries emergency lighting solutions from Mircom. Emergency exit lighting is essential for every business and is a great sell opportunity to increase your profits on every job.
Each outside door of the businesses you are working in can benefit from one of these new LED lights from Mircom. Update old outdated lights or install them in newly constructed businesses!
Several different models and styles to choose from including twin spot LED emergency lights, LED emergency exit signs, slim LED emergency exit signs, and LED emergency exit signs with twin LEDS.
The LED emergency exit sign with twin spot lights offer your customers an efficient, affordable and universal solution. Mircom uses the newest LED technologies to obtain the highest brightness with the lowest power consumption. These lights are built with flame rated thermoplastic that protects them from corrosion and expands their durability.
Your customers will enjoy not having to worry about bulb replacement for the life of their product, meaning less service calls for you and less frustration for your customers.
The universal design allows you to install them from the ceiling or on the wall, making it easy for your customers to call out their business exists, no matter what their buildings look like.
Visit the Mircon Website to see the different emergency lighting options that are now available.