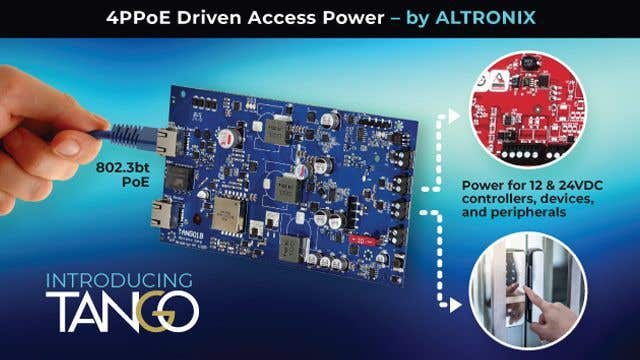 Everything You Need to Know About IEEE 802.3bt
As long as there are security systems, there will be a need for power. And as long there is a need for solutions that are smarter, faster, and simpler than their predecessors, there will be innovation. These two truisms combined have led us to the latest Power over Ethernet (PoE) standard: the IEEE 802.3bt High Power PoE. Though it has been around for a few years now, some security integrators and end users are still in the dark regarding the use and benefits offered by 802.3bt. To help all parties better understand how much of a game-changer 802.3bt truly is, we are providing you with all the information you need to know about this new method of power transmission.
What is 802.3bt?
Also known as 4PPoE or 4-Pair PoE, 802.3bt PoE is the most recent standard of PoE ratified by the Institute of Electrical and Electronics Engineers (IEEE) in 2018. Under this new standard, all four pairs of wire in a structured cable are utilized to evenly distribute power.
Why did there need to be a new standard?
In the past, traditional powered devices such as IP cameras or phones needed to add PoE into the network. Trends such as smart devices and the growing Internet of Things (IoT) brought new requirements for higher bandwidth and power than traditional power sourcing equipment can provide and which the previous standards are not able to meet.
How does 802.3bt compare to previous standards (PoE, PoE+, and PoE++)?
By using all four pairs of conductors, 802.3bt provides up to 90W of power per port, a substantial increase in the maximum over previous versions. 802.3bt also supports multiple PoE classes (up to Class 8) and is backward compatible for use with older PoE devices. In short, 802.3bt PoE power supplies can now power more devices, including systems devices that demand more power.
What implications does 802.3bt have?
The implications of 802.3bt vary widely depending on who you ask. For instance, 802.3bt PoE empowers physical security device manufacturers to design new products with power hungry features for specialized physical security video surveillance and access control applications. Examples include new PTZ cameras with infrared illuminators, heaters & blowers for harsh environments, and more. Up until now, system installers would typically connect an Ethernet cable with PoE to a device such as a camera, illuminator, access control panel, etc. With the new 802.3bt, it is possible to power an entire access control system without the need to use high voltage inside the enclosure, utilizing low voltage wiring methods. Furthermore, there is no voltage present on the cable from a power source until it is plugged into a powered device, creating a safer environment for installers.
End users can similarly reap the rewards of 802.3bt in the form of lower install costs, greater product capabilities, and time-saving efficiencies. The costs of a certified electrician, additional cabling, conduits, potential permits, and added install time quickly add up – and can be entirely avoided when using 802.3bt for remote power. Upgrading the PoE power source to 802.3bt also supports upgraded end-point devices without having to make costly, laborious changes to the cabling infrastructure or other parts of the system.
How will 802.3bt impact my security installs?
The new 802.3bt PoE standard increases system designers and installers' versatility even further due to the availability of more power. More available power equates to a greater number of devices able to be powered with a single midspan. By upgrading to a 802.3bt multi-port midspan, such as the NetWay8BT from Altronix, you can now support the latest PoE locking devices, cameras and more while providing battery backup for your security system at the head-end. These units even provide remote power management to monitor and report system diagnotics.
Powering access control with 802.3bt? With this new standard you can now deploy an access control system utilizing a single category cable. Tango1B from Altronix is a 4PPoE driven power supply/charger that harnesses the 90W coming from any IEEE 802.3BT power source and converts that to 12VDC and 24VDC simultaneously. With up to 72W available, the flexibility to power an entire access control system with 802.3bt is now possible. This includes powering the access control panels, locks, readers and ancillary devices, while providing LiFePO4 batter backup, increasing your bottom line. Tango is also uniquely stackable with other Altronix power distribution and access controller modules, saving valuable space and making each output individually selectable for 12/24VDC - with or without a built-in for alarm interface.
Why should I switch to 802.3bt PoE?
Now more than ever today there is a demand for more power to support additional network connected devices. This additional power provided by 802.3bt PoE unlocks more opportunities for security integrators, manufacturers, and their customers. For integrators, it allows for the movement into new potential markets that require high-power applications such as smart cities and proptech. For end users, the cost and time savings do not compare. When you add up all the advantages of the new 802.3bt PoE standard, it's pretty clear to see why it is such a game-changer for pro security systems.
Check out this brief Altronix video to learn more about 802.3bt PoE and Tango:
https://solutions.altronix.com/tangoplugplaypower