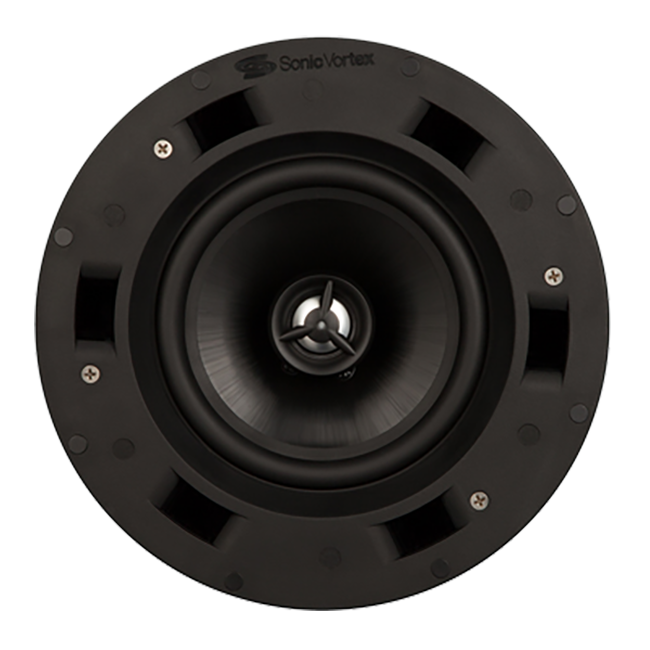 Get More Bass Out of Home Audio Speakers
How do you get the most bass out of in-ceiling home audio speakers?
There are many architectural speakers on the market and determining what best suits the needs of a client can make or break any install. Although in-ceiling and in-wall speakers come in an array of shapes and sizes, most are essentially the same. One of the biggest challenges home audio suppliers are facing is how to deliver more bass out of a small enclosure; And let's face it, most clients want to hear deep rich bass whenever they watch the newest action film or listen to a favorite song.
So how do you deliver enough bass for even the most meticulous client while remaining on budget?
To get more bass out of a speaker more air must move, this typically requires a larger enclosure which can be a problem for both installation and aesthetics. Beale Street Audio's in-ceiling and in-wall speakers with trademarked sonic vortex technology are the newest breakthrough when it comes to home audio innovation. Sonic Vortex technology is based on ported transmission line design that's been used in large, expensive floor-standing speakers for years. A long port forces air through the cabinet at a high velocity which pushes substantial bass out of a very small space. This long port is wrapped and coiled around the interior of an integrated sealed and tuned enclosure and then separated into multiple small ports (fins). The fins then force air through multiple ports at high velocity, finally exiting at the top of the speaker.
The result of the Sonic Vortex technology is rich clean bass and an immersive sound that must be heard to be fully appreciated. Traditional back boxes usually make a speaker sound worse, but by using a compact and rigid integrated enclosure instead, Beale Street speakers avoid the typical loss of sound quality. The integrated enclosure used in Beale Street speakers with Sonic Vortex technology helps prevent sound from bleeding into adjacent rooms, focusing the much desired bass exactly where it needs to be heard.
Eliminate Post-Installation Issues
Traditional open back design speakers face other downfalls such as disparity of sound due to different sized wall and ceiling cavities and the possibility of ceiling debris falling, causing speakers to rattle or even sustain damage. The integrated enclosure around the speaker eliminates these concerns while delivering consistent high quality sound every time.
There is another amazing feat that sonic vortex technology delivers, and this one almost defies physics. Such smooth and balanced airflow creates virtually zero energy transfer between the driver and the enclosure. This may not sound like a big deal, but eliminating that transfer of energy also eliminates the issue of cracking sheetrock due to vibration. Beale Street speakers, and even subwoofers with Sonic Vortex technology can be installed in ceilings and walls without any additional bracing.
So What Does This All Mean?
Consider Beale Street speakers with sonic vortex technology by Vanco for your next home audio installation. In addition to providing clients the most bass and immersive sound for their budget, typical post-installation issues such as sheetrock cracking, loss of sound quality, and sound bleeding into adjacent rooms can also be avoided.
Beale Street speakers with Sonic Vortex technology are available at Security Equipment Supply, your local home audio suppliers. We've got your back when it comes to installing home audio… No Matter What!