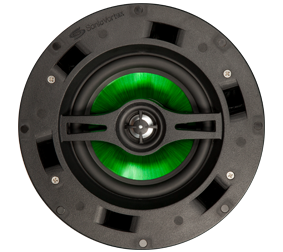 Install great sound with quality In-Ceiling speakers from Beale Street Audio
The IC6-MB In-Ceiling 2-Way Speaker from Vanco's Beale Street Audio line features a 6.5" fluted injected poly woofer and 1" aluminum tweeter.Specifications include 46Hz – 22kHz frequency response, 8-ohm impedance and 89db sensitivity.
The speaker also features the patented SonicVortex technology that allows for a unique design that produces unprecedented levels of bass output and room energizing dynamics from in-wall and in-ceiling speakers.
The SonicVortex enclosure directs all of the sound from the speaker driver into the room it is intend to be in, so you get to enjoy your speakers without disturbing the rest of the house. Great bass response, stereo image, and big sound that you can't get with any other in ceiling speaker.
Visit the Beale Street Audio website to learn more about In-Ceiling speaker options available.