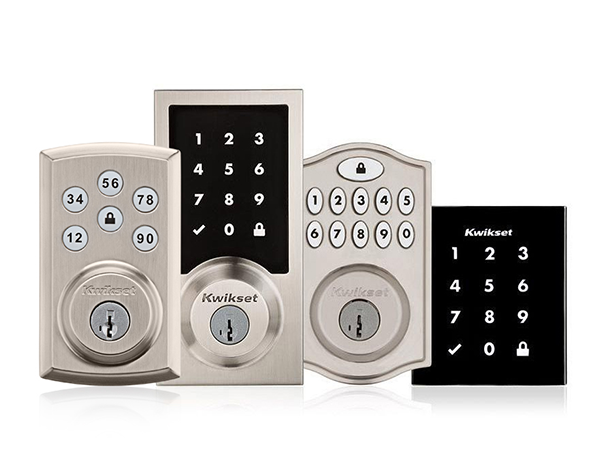 Grow Your Business with Smart Locks
Kwikset integrates with existing security and home automation services
Provide customers with improved security as well as various wireless possibilities by installing a Kwikset smart lock, installation is quick and simple!
Wireless technology you can trust
Security dealers who currently install home automation systems or security systems that are Zigbee or Z-Wave Plus compatible will appreciate the easy installation and integration of Kwikset smart locks.
Selling on the benefits of incorporating access control
Safety & Security
Remote Access Control
Energy Management
Everyday Convenience
Connected Lifestyle
"While You Were Out" Peace Of Mind
There are multiple reasons why adding connected locksets into your customer's total security solution will provide otherwise unseen benefits – it's up to you to understand what will motivate a particular homeowner. This understanding will lead to a mutually beneficial scenario for everyone – the customer has been given something of added value to their home life and your business has grown because of it. What does the connected lock mean to you?
INCREASE SYSTEM USAGE The end consumer may not interact with their security panel on a daily basis, however what they will interact with is their entryway. By creating direct links from your lockset to your security panel, you are creating a lifestyle in which the system is being used on a regular basis.
INCREASE RMR By building varying levels of custom packages (think Good, Better, Best scenarios) that deliver desirable system features and benefits via the products that are included, you can help drive movement towards increased RMR.
INCREASE CUSTOMER RETENTION By delivering a lifestyle in which the end consumer is interacting with their smart devices on a daily basis and coming to rely on the routine benefits provided, they have now entered the mindset where life any other way is unimaginable, turning customer retention into an automatic transaction.
PROVIDE THE TOTAL SECURITY SOLUTION Integrating a connected lockset is no longer just about access control. By creating connections, or scenes, from the lock to other devices in the home such as doorbells, video cameras, alarm panels, thermostats, lighting and more, you are providing a total home security solution that protects what matters most.
For more information on Kwikset Smart Locks ask your SES representative or visit kwikset.com/for-the-pros/why-offer-electronic-locks
Security Equipment Supply is a smart lock and access control distributor, but we also handle many low voltage products and vendor lines. Make sure to check out our blog on how in-home delivery could provide security dealers with opportunities and learn how you can use Smart Locks to cement your relationship with existing customers. Smart locks can also be a great starting point to develop new customers by explaining that the lock can become part of a bigger home automation and security system.