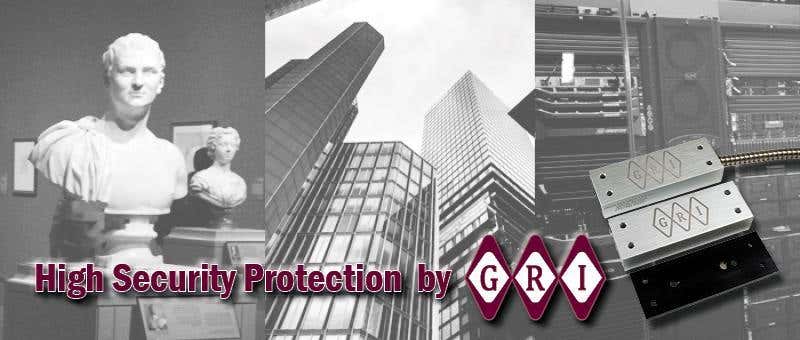 High Security Protection by GRI
As far as reed configurations go, GRI manufactures, by hand, about every type of magnetic reed switch an installation company would want. From closed loop to open loop, SDPT to DPDT, dual reed to supervisory loop to biased for high security.
GRI Single Biased Contacts
GRI single biased contacts are available in a variety of case styles including ABS plastic for recessed and surface mount installations and aluminum cases with stainless steel armored cable for overhead doors and industrial applications. Most are built as closed loop or SPDT. Some part number include B4040-12. B29C, B29PC B220-36, 4400AB. Some of the popular applications for single biased switches are retail outlets and commercial spaces, group homes and detention centers.
Manufacturing & Testing Biased Contacts
Extra time and care are taken when manufacturing and testing a biased contact. The process begins as a single pole double throw reed that is biased into an opposite condition by reversing the legs of the reed using just enough magnetic field strength to hold them in the opposite position. We have now created what we refer to as a double tripping switch that can be actuated only inside a specific window of operation. This biasing operation has created a maximum distance and a minimum distance of actuation. At approximately the center of this window, should a compromising magnet be added, the effect would be similar to moving the actuation magnet to the inside limit of the window and the switch would release creating an alarm. Positioning and relationship of the switch to the actuating magnet are critical. The closer the actuation magnet is to the inside release point of the actuation window, the more difficult the compromise will be.
GRI Triple Biased High Security Contacts
With the introduction of the GR2707 Series, the Triple Biased High Security contacts achieve a whole new level of security. Part number GR2707-A contains three independent form C reeds biased in a SPDT configuration. Part number GR2707-AD contains six independent form C reeds biased in a DPDT configuration. The DPDT configuration is ideal when there are multiple zones, timers or other equipment to consider. Both contain a supervisory loop and a tamper plate. These contacts are UL Listed High Security Level 1. These are rated for indoor and outdoor installations. Brackets and spacers are available separately.
What Facilities are Ideal for the GR2707 Triple Biased Contact?
In our advancing technological time, the GR2707 could be used to secure data processing centers, banking and financial information, military and government intelligence as well as digital, scientific or medial research facilities.
Along with digital property, physical property in high security areas is also a priority; airports, warehouses, manufacturing plants, jewelry stores, military bases, ships, energy-generation facilities, prisons and much more.
These products have a lifetime warranty against workmanship, material and factory defects and are made in the USA. GRI Single Biased Contacts and Triple Biased High Security Contacts are available at Security Equipment Supply. SES is a wholesale distributor of low-voltage security, access control, video surveillance and more with over 37 years of experience in the industry. Give our knowledgeable sales team a call today and we'd be happy to answer any and all questions you may have.