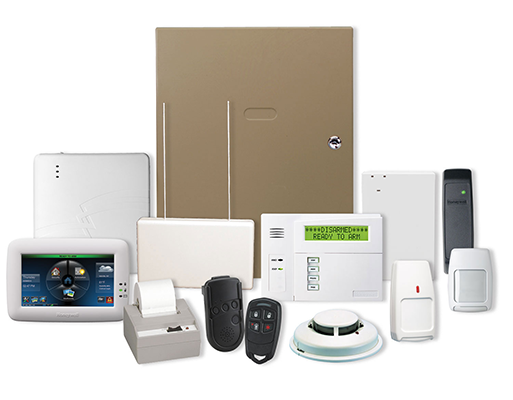 The Honeywell Vista Intrusion Panel is a Great Choice for Commercial Installs
The Honeywell Vista panel is a commercial alarm panel that integrates intrusion, video surveillance, fire, and access control functions into one easily upgradeable system. This intrusion panel provides great flexibility for both residential and commercial projects.
The Honeywell Vista 128BPT intrusion panel:
Provides Nine Style-B hardwired zones
Supports up to 127 wireless zones using up to two 5800 series wireless receivers (119 zones if using hardwire and/or polling loop zones)
Includes 150 User Codes
Keeps a log of up to 512 Events
The Honeywell Vista 250BPT intrusion panel supports up to 249 wireless zones when using up to two 5800 Series wireless receivers. Upgrading to the 250BPT intrusion panel also increases the number of user codes to 250 and the number of events logged to 1,000.
Both Honeywell Vista 128BPT and 250BPT models include:
Support for up to 16 compatible two-wire smoke detectors on zone 1
Quick exit function
Group bypass function
Arm faulted
Event arming
Carbon monoxide (CO) zone type support
Installer Tips:
1. When wiring the keypad, you will use terminals 4, 5, 6, and 7.
Terminal 4 is your negative
Terminal 5 is your positive
Terminal 6 is for the keypad's green data wire
Terminal 7 is for the keypad's yellow data wire
You should get a busy signal on the first keypad you install. Hold down the 1 and 3 keys simultaneously to address the keypad. 16 will be the address for the system's primary keypad. Note: you will get a fault for all your zones unless you have a resistor run across them. Nothing is wrong with your wiring; programming just isn't set yet.
2. We recommend that you use the Honeywell Commercial 6160 intrusion keypad for all programming needs, as the alphanumeric display will show you all values and fields when programming. The 6150 keypad will also work for programming, but won't display all values entered into the field. This could lead to the installer entering incorrect numbers, causing programming errors and increasing the setup time.
3. To enter programming on a Vista Panel:
Use the installer code you were provided with or the default installer code of 4112 followed by 800 to begin programming.
If you were not provided with the installer code, there is a backdoor method. Power the system down, then power it up and within 30 seconds of powering up press and hold the pound and star keys to begin programming. This method won't work if you are locked out of the system.
4. 4112 is the default factory installer code. Make sure to change your installer code to something different from the default by pressing *20 and entering a new four-digit code. Many thieves are aware of default installer codes.
5. Typing in *99 will return you to the main menu.
If you're currently facing sunsets, disappearing POTs, or just looking to upgrade current Honeywell Vista panel accounts to Cellular/IP & allow for Uploading/Downloading check out our blog on the new StarLink Connect DL Cellular Communicator!