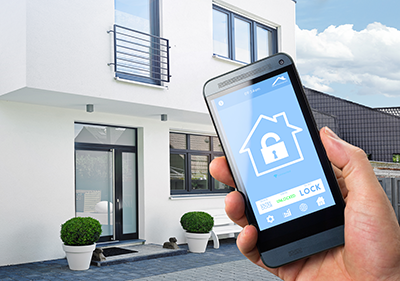 In-Home Delivery Could Offer Security Dealer Opportunities
Despite what late show host Stephen Colbert thinks, a large number of consumers are interested in in-home delivery – and that could mean new opportunities for security dealers.
Colbert poked fun at Walmart when the company announced earlier this year that it plans to offer a service to deliver groceries inside a customer's home and put them away.
"It's perfect for anyone who thought that the only thing lacking from their Walmart experience was a home invasion," Colbert quipped.
Nevertheless, recent research from Parks Associates found considerable interest in this type of service, which generally relies on smart door locks. Nearly 40% of people who own or intend to purchase a smart door lock, garage door opener or video doorbell said they would be interested in a service that allowed food or other delivery services to enter their home or garage.
If you think about it, it really isn't much different from letting a cleaning person or dog walker go into your home, and many homeowners allow those people in.
When asked specifically if they would allow FedEx or UPS to open their door to deliver a package, the number of people interested rose to more than 40%. The apparent trustworthiness of the service provider seems to be a key factor.
With that in mind, it's interesting to ponder the role that security dealers might play in supporting this type of service.
Potentially some end users may install the smart door locks themselves. Others, however, may prefer to have someone else do it – particularly if they decide to sign up for service in the winter. And in pondering who should do the installation, those people are likely to seriously consider a security dealer, particularly if they already have a relationship with one.
From the security dealer's perspective, there may not be a big margin on a job that involves installing just a single door lock. But doing so could help cement the dealer's relationship with existing customers. And if the dealer does a good job for someone it hasn't worked with before; the dealer could become the customer's logical choice whenever they may decide they want a security or broader home automation system – particularly if the dealer has explained that the door lock also can become part of a home automation and security system that can be programmed to, for example, simultaneously disarm the system and unlock the door for authorized users.
Dealers needn't wait for Walmart's offering to launch before pursuing these opportunities. Amazon already offers a service similar to the one Walmart is planning in limited areas, and it wouldn't be surprising to see other companies making a similar move.
Security Equipment Supply is one of the leading wholesale alarm equipment suppliers and can help security dealers with smart door locks. With over 37 years of experience serving low-voltage dealers, we not only offer security equipment, we also offer advice and expertise to help you in serving your customers.
Security Equipment Supply offers a range of smart door locks and can advise security dealers on door lock selection and offer installation advice. Go to the "Brands" section of our website, then click the box at left for "Home Automation" to see the manufacturers that we offer.