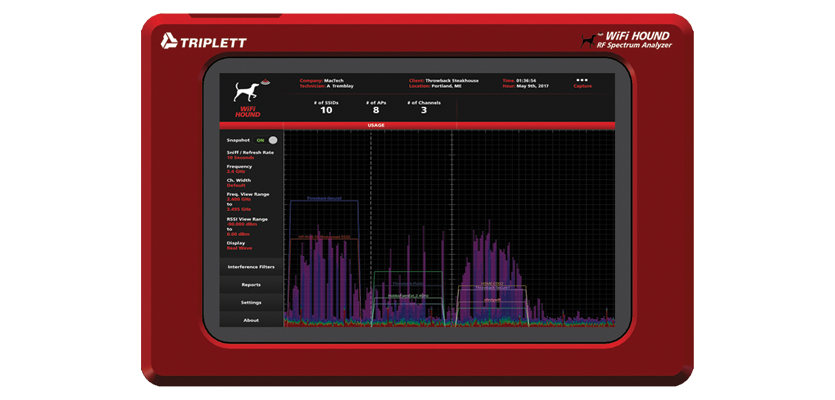 Increase the Effectiveness of Your Networking Devices (by eliminating interference)
The Triplett Wi-Fi Hound (TRP WFHOUND) is a full-featured wireless network and RF Spectrum Analyzer designed to help troubleshoot and isolate problems that impact the quality of wireless networks and networking devices.
What is a spectrum analyzer?
Spectrum analyzers measure the phase of a signal. A spectrum analyzer evaluates a networking device's circuit performance and signal, then displays received signals with respect to amplitude vs. frequency. The main purpose of a spectrum analyzer is measuring the power of a signal's various frequency components such as audio signals and radio frequency.
Spectrum analyzers are found in most engineering labs due to their usefulness for design development and device testing. In addition to engineers, the Triplett Wi-Fi Hound offers a wide array of benefits for field technicians, wireless technicians, or anyone looking to improve wireless network performance for their clients. The Triplett Wi-Fi Hound is a must have piece of test equipment if frequency make-up of signals is a concern of your clients.
A few benefits the Wi-Fi Hound offers:
Portable
Affordable
Easy to operate user interface
Ability to create custom branded, high quality reports for clients with the push of a button
Do the many mobile apps work?
While most mobile apps will work for channel management, their usefulness is otherwise limited. These types of apps will show other access points broadcasting in the area, but typically are unable to show all interference in that spectrum. The problem here being, it is often the little things causing issues for a client's networking devices.
Installer Tips
Set up a regular process. (For example, enter the door, and go left to each extreme of the room, taking snapshots as you go.)
Perform and document a Site Survey:
When you first arrive at the jobsite for troubleshooting
When you finish an initial installation, or finish the necessary repairs on a Trouble Call.
Let the customer see their wireless environment, explain in simplified terms what you are showing them.
Don't let the customers focus too much on identifying every frequency. There will always be RF that cannot be identified, focus on the big picture.
When following up with clients compare the original report to their current report. Providing visual aids is helpful when relating information to clients; this new report should show major changes or improvements in the wireless environment.
To learn more about the Triplett Wi-Fi Hound and it's features watch our latest video and subscribe to our YouTube channel @ SES.No.Matter.What
Hardware Specifications:
Operating System: Android 7.0
Storage: 16 GB
RAM: 1 GB
Screen Size: 10.1 in
Aspect Ratio 16:9
LCD Multipoint Capacitive – Touch Screen
Resolution: 800 x 1280
Camera: 2.0 MP
Bluetooth: BLE 2.0
Built-in 0.8 W Speaker
3.5mm standard headphone jack
Mini-HDMI
Micro-SD Card Slot
Micro USB OTG
Built-in Battery: LiPo 6000 mAh