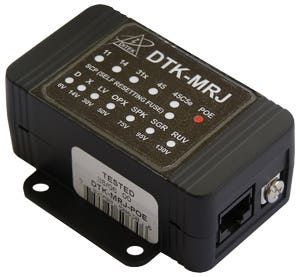 Individual Surge Protection
Take a look at this handy individual surge protector, from Ditek. Offering surge protection for PoE circuits - PoE+ and Hi-PoE, this surge protector is ready for high-wattage applications. This protector provides up to 10GbE data speeds without signal degradation and it is compatible with CAT5e, CAT6, and CAT6A cabling infrastructure. 
This surge protector uses SAD and GDT technologies along with shielded RJ45 connections. With 20kA per pair surge current rating, that makes this surge protector the highest in the industry! The MRJPOE can also be installed either at the equipment end, or ahead of injectors/midspan devices. Trust SES as your low voltage supplier, and get in touch with your sales representative to get this surge protector today!
Learn more at Ditek's website
Part number: DTK MRJPOE