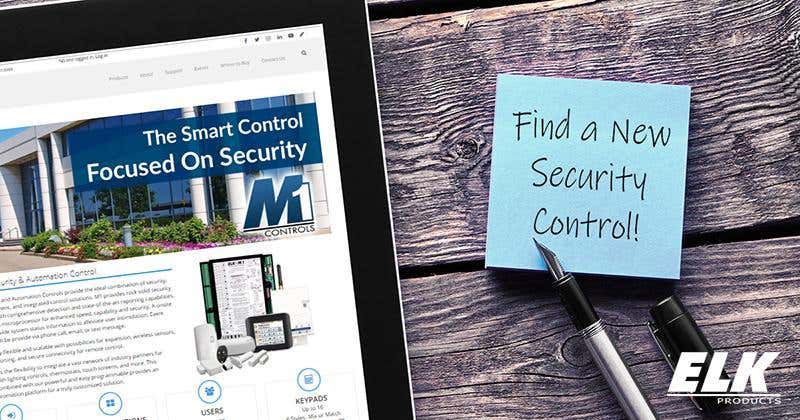 Searching for a new security control? Check out M1 Controls from ELK Products
Choosing the right security platform is important for the success of your business. If all the changes in the market have you searching, be sure to take advantage of the opportunity to set yourself apart by offering the customized solutions your client's need.
M1 is a security-focused, smart control solution for residential and commercial applications with flexible expansion options to meet client needs. It provides comprehensive detection and reporting for security, life safety, and environmental conditions. Using an integration-friendly approach, M1 builds on this platform with full-featured automation capabilities to enhance safety, comfort, and convenience.
Expandability
M1 is a very scalable platform, making it ideal for residential applications, large and small. It also works well in small to mid-sized businesses, schools, municipal buildings, and more. M1 features a large zone capacity, supporting both hardwired and wireless sensors. It also expands to support a large number of devices through outputs and integration modules, providing intelligent control and automation of lights, thermostats, garage doors, gates, fans, irrigation, water valves, and more.
Security- Focused
With an extended focus on security, ELK designs wireless sensors to be more secure and reliable. For budget-conscious installations, ELK offers the economical 319 Series Wireless Sensors. These sensors are designed for years of reliable performance and feature MaxOut™ Technology to increase coverage and battery life. When increased security is a must, choose ELK's Two-Way Wireless technology, with encrypted transmissions, frequency hopping, and jamming detection. True, two-way communication with the wireless sensors allows innovative security enhancements including smoke detectors with wirelessly interconnected sounder activation and key fobs with on-demand system status inquiry.
Flexible Reporting
M1 is ready for the changing landscape of alarm reporting with support for IP, cellular, and landline communications. ELK's C1M1 Dual-Path Alarm Communicators provide super-fast full data reporting to the Central Monitoring Station over IP and cellular pathways. C1M1 also supports remote connectivity for arming and disarming, as well as remote programming without requiring port forwarding. For installations where cellular service is unavailable, ELK offers an "IP only" option with the M1XEP IP Interface & Communicator. For installations still using traditional landlines, M1 controls feature a built-in telephone dialer that uses industry-standard reporting formats.
Safely Connected
Secure connectivity is vital in today's connected homes or businesses. M1 supports remote access through IP and cellular pathways with multi-level authentication for connections and high-level encryption of communications. M1 offers flexible remote apps; ranging from simple control to advanced options. With direct and cloud-based options, installers can offer the right solution for each customer. Email, text, and push notifications keep users informed of important system events.
Smart Automation
Combining security and home automation in one system has clear advantages. Arming status information and existing intrusion detection sensors can be used to provide control based on occupancy. With support for a variety of sensors, M1 can also monitor other environmental conditions. Devices can be scheduled based on time/ day and a built-in astronomical clock allows the system to know when sunrise and sunset occur. M1 brings together all of this information to provide intelligent automation of lights, thermostats, garage doors, gates, sprinklers, water valves, and more.
Easy Programming
Installers will appreciate the ease of system programming and installer-friendly features of our ElkRP2 software. This straightforward and powerful programming software contains simple dropdowns, checkboxes, and text fields. Even MACROS or rules are created the same way to build logic statements in plain English, providing a platform for powerful and imaginative system configuration. Conflict resolution offers easy synchronization of M1 system programming and rules can be quickly enabled or disabled.
Changing control platforms is a big step and can be overwhelming. ELK's award-winning support team offers the help you need throughout the process, from deciding if M1 is the right fit, to personalized training and guidance with system design.
The M1 platform and ELK products are available today at your local Security Equipment Supply, a mid-west based distributor of home & commercial security, access control, smart home automation and more with over 38 years of experience in the low-voltage industry. Sign up to become a customer today and gain access to our extensive in-house inventory of low-voltage products!