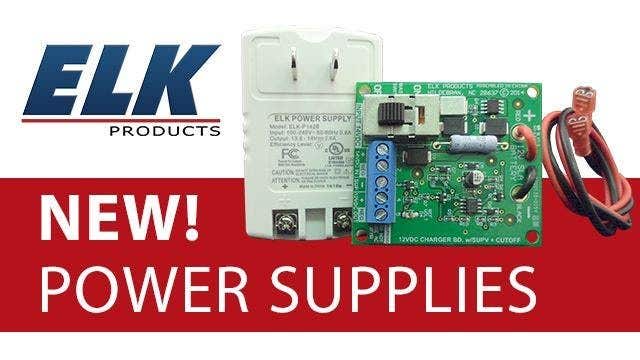 New Power Supplies from ELK Products
ELK Products expands their power supply offering with two new power supplies. The ELK-P1426 is a 14 VDC, 2.6 amp plug-in power supply. This UL listed power supply features screw terminal connections for the DC output and an optional receptacle mounting bracket.
ELK has paired the ELK-P1426 with their intelligent charger board to create the ELK-P1224, a 12VDC, 2.4 amp universal power supply and battery charger. This smart power supply supervises the battery and provides a low battery supervision output when the battery voltage reach 11 volts. If the battery voltage drops to 9 volts, the intelligent charger activates a low battery cutoff, preventing connected equipment from malfunctioning. The low battery cutoff also protects the battery from the damage that can result from deep discharge. The ELK-P1224 features auto-resetting overload protection and a master power switch.
The low cost and innovative features makes ELK's new power supplies a smart choice. ELK's power supplies are well suited for use with alarm sounders, strobes, access control systems, locks, surveillance cameras, water shut-off valves and more. Learn more at https://www.elkproducts.com/power-supplies/