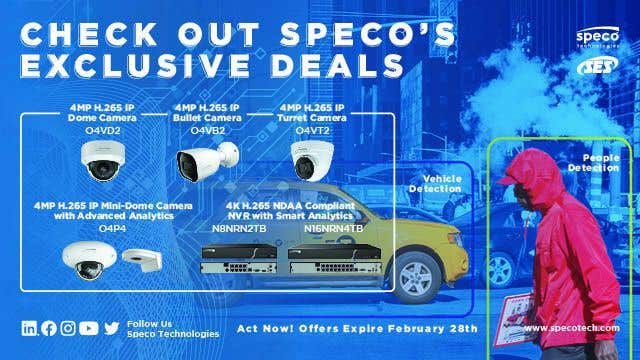 Our brand-new central management dashboard
Would the ability to manage YOUR customers sites remotely drastically alter how your business operates? Well, with Speco's SecureGuard Dashboard, you now have that ability. Our brand-new central management dashboard allows you to maintain control over your installed recorders remotely, reducing the amount of truck rolls to your individual sites. This saves your business time and money, and provides your customers with a sense of security, knowing that their property will remain protected.
While using SecureGuard Dashboard, proactively check the health status of your systems and always be aware in the event of a dropped connection. By leveraging this feature, you will oftentimes notify your customers BEFORE they notice an offline camera or recorder. Taking the first step in remedying the issue speaks volumes to your business and proves to your customers that you are actively protecting their property.
Another benefit of Speco's SecureGuard Dashboard is the ability to configure hardware and analytics remotely. Providing this service for your customers allows you to charge and gain recurring monthly revenue for the maintenance and monitoring of your locations.
To add a recorder in the field to your managing Dashboard, you are able to utilize encrypted, QR code-based network connections via the mobile app. The SecureGuard Dashboard is a game changer, providing additional security for your customers and providing an additional service to generate more revenue for your business. To learn more about the SecureGuard Dashboard, you can find out more by reaching out to your local SES Branch or by visiting www.specotech.com/secureguard-dashboard/.