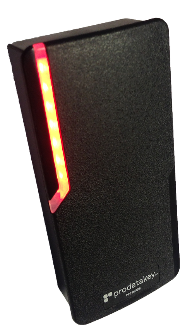 All-Purpose Mullion Reader
This inconspicuous, sleek, and stylish all-purpose mullion reader is great for your access control needs. Not only is the design attractive, but the economical price also adds on to the attractiveness of this reader. The secure potted technology is ideal for both outdoor and indoor applications.
This reader offers a security status LED and a weatherproof IP65 Rating, all in a compact design. With multiple configurations combined, this Prodata Key reader has the ability to read HID formats between 26-37 bit Wiegand ranges. It also contains a standard 26bit Wiegand, making it compatible with 125KHz fromats. 
Check out ProdataKey's website to learn more and order the all-purpose mullion reader today, from your go-to for whole sale security products, SES.
Part number: PDK PP08RDRM