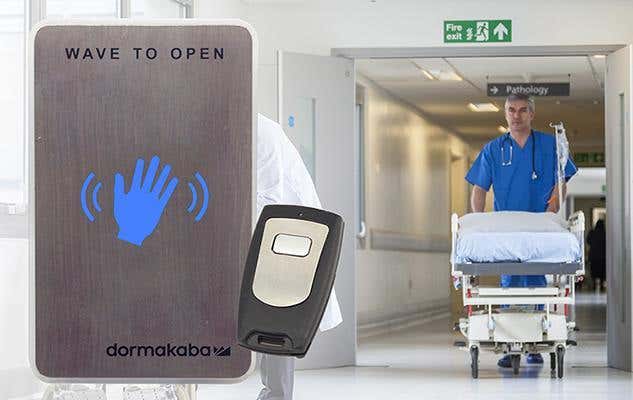 Touchless Door Activation is Easy and Affordable With RCI Touchless Switches
Help reduce the spread of germs in your customers' facilities. Touchless door activation can make all the difference when it comes to a clean, hygienic facility especially in high-contact public places such as healthcare facilities, restaurants, schools, offices, and restrooms. dormakaba offers many solutions to fit your customers' needs for touchless access, including the RCI 910TC series of touchless switches, 912 battery-operated touchless switches, and 946T / 950T wave plates.
RCI 910TC Series
Introducing the RCI series of 910TC switches from dormakaba. These low-profile actuator plates can help make your customers' workplaces safer and more secure. The 910TC is ideal when hands-free operation is required, and the need to reduce the spread of infectious diseases through surface contact is a priority. The 910TC is easy to install and functions with many automatic door openers for a complete touchless application.
How Does the 910TC Work?
Check out this short video clip on the RCI 910TC:
Features and Details:
Available in black plastic or stainless-steel faceplates
Waving hand or ADA symbol changes color when activated
Most competitively priced capacitive switch on the market today
Protective clothing will still activate the switch
Adjustable detection zone to reduce unwanted activations
Secondary 'normally open' mechanical switch in event of power loss
Mounts on a single gang electrical box
Meets ADA compliance to ANSI/BHMA A156.19
FCC compliant
ISED compliant
910TC Models:
Four faceplate models: 910TC, 910TC-HC, 910TC-SS, and 910TC-HC-SS
Available with remote control fob to trigger the switch remotely
Each model may be purchased as a kit, which includes the switch, remote receiver module (WRM) and remote transmitter (WRB)
Additional Documents: