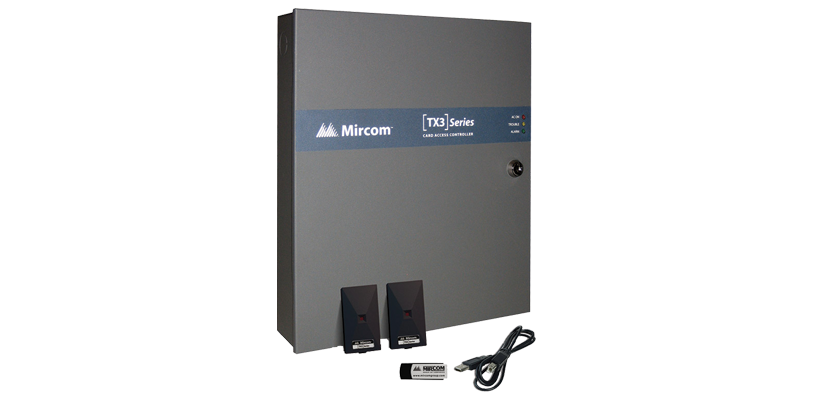 Simplifying Commercial Access Control Solutions
Mircom's TX3CX2KA is a powerful hybrid IP and RS-485 networked two door controller kit that manages up to 126 doors using the RS-485 network. This controller kit is the perfect expandable and scalable stand-alone commercial access control solution for your clients.
Expand the system using TCP/IP and it becomes virtually unlimited. Just add a TX3-IP module to the panel for TCP/IP networks. The TX3CX2KA Kit arrives complete with two TX3-P300-HA readers, one TX3-CX controller, and configurator software on a flash memory stick and a USB cable for programming.
TX3CX2A Door Controller
The TX3CX2A controller has the distinct advantage of being compatible with the entire family of TX3 platform solutions. From voice entry, to elevator restriction and wireless Aperio locksets, the TX3 will exceed the basic job requirements while accommodating other elements of an intelligent building as the needs of your clients grow.
TX3P300HA Proximity Reader
This access control kit includes two TX3-P300-HA proximity card readers that deliver exceptional value without compromising on quality, durability, or performance. The reader may be mounted on a metal door frame, a window mullion, or directly to an interior or exterior wall or cabinet. The TX3-P300-HA proximity card reader is available in a slim line dark grey enclosure.
Thanks to a UL approved epoxy resin potting compound that seals them against adverse environmental conditions, the electronics of the TX3-P300-HA reader are always protected. The TX3-P300-HA proximity card readers are metal compensated. This results in minimal loss of read range and provides easy installation for various door access applications.
Features:
Up to 126 readers per RS-485 network of up to 63 nodes
5,000 events buffer and up to 5,000 cards
Full integration to TX3 Voice entry panels
Optional TCP/IP option by adding TX3-IP module
Security desk option to grant or deny access
Built-in man-trap and delayed entry
Access control kit includes 2 door controller, readers and software
To learn more about the Mircom TX3CX2KA kit or other access control solutions visit your local Security Equipment Supply or follow us on Facebook and LinkedIn!