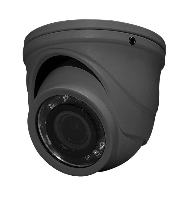 HD-TVI 2MP Mini-Turret Color Camera
Check out this Speco mini-turret HD-TVI 2MP color camera with a 2.8mm fixed lens at SES,  for all your customers security system needs. Thanks to its compact size, this turret is only 2.36" in diameter. But don't let its smaller size fool you, it's still packed with 12 IR LEDs and built with cast aluminum construction.
This camera is vandal AND weather resistant to ensure long-lasting protection. And, if that doesn't cut it, it also has a 5 year warranty protection. This turret also comes with an additional analog output for 960H AND has a signal distance up to 1600 feet, making it the perfect product for your customers supplied by SES, your wholesale security equipment distributors.
Learn more about the security supplies Speco has to offer, or stop by your local SES branch today!
Part number: CSI HT71TG