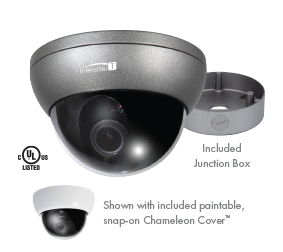 Light up the place with Intensifier T from Speco Technologies
The Intensifier T HD-TVI 2MP dome camera from Speco Technologies gives your customers the ability to see color images either for viewing or recording in low-light conditions without having to have IRs.
These types of cameras can be used for indoor or for outdoor jobs, providing you flexibility for your customers without having to switch camera models or brands depending on the size or scope of their job.
The HD-TVI is a 2.8-12mm lens dome camera in a dark grey housing. The camera provides full HD over coax with HD-TVI technology and supports up 1080p. The camera also includes a junction box so you do not have to purchase one separately to complete the job. Need a different color? No problem, the Chameleon Cover™ can be snapped on to the camera and then painted to match any home or business. The HT7246T is also UL Listed and comes with a 5-year warranty!
Visit the
Speco Technologies Website
to learn more about the various Intensifier products as well as the complete catalog of products that Speco Technologies can offer to your customers.