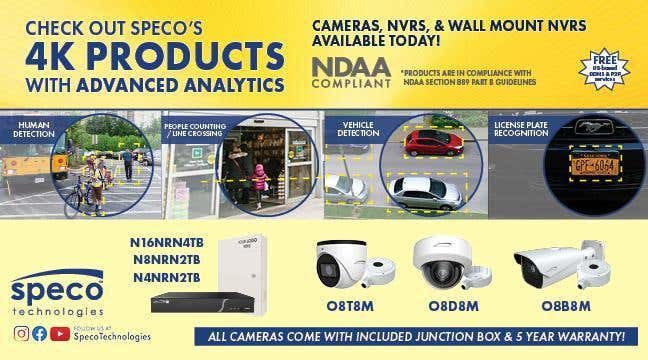 Speco Technologies intensifier low light techonlogy
Throughout the years, Speco Technologies has been known for its constant innovation, dating back to the inception of our best-selling Intensifier technology. In the spirit of innovation, we have enhanced our established line of Intensifier solutions to adapt to an ever-changing landscape. With advancements in how vibrant this low light solution can make color look in the dark, to the minimal amount of light required to activate this feature, we are proud to present to you the next evolution in Intensifier Technology!
This new line of 4MP IP cameras include advanced analytic features such as, Face, People, and Vehicle Detection when utilizing our NR Series recorders. Detecting each of these at night when combined with low light technology, provides an accurate description if a crime happens. These cameras come in Dome, Bullet, and Turret housings with a fixed or motorized lens depending on your needs.

A dark shirt captured by your standard IR camera might show up as a light-colored shirt giving you false information to provide to the authorities but with these new Intensifier cameras you will see the color almost as clear as day.

Another benefit to this solution is absolutely no distance limitation. IR's are an illuminating technology with a limited distance, and what's great is these Intensifiers amplify any ambient light . This allows you to see farther away from your camera and because Speco's Intensifier cameras don't use IRs glare from rain, webs, or insects flying around the lens will not be an issue.
Speco Intensifier cameras are perfect for any place you may want to surveil in the night provide a huge gain to grow facilities where IRs may affect plant growth. Infrared may be invisible to us, but that doesn't mean it isn't there. During the day, plants rely on all wavelengths of the visible and invisible spectrums of light from the sun. When the sun goes down, this all disappears. However, having infrared light on your plants is unnatural for the day and night cycle. This is why many cultivators and plant growers rely heavily on Intensifier solutions. With Speco's Intensifier, there are absolutely no IR's providing a low light full color scene that is safe for your plants.

Cover parking lots, driveways, yards, and more with these innovations in low-light surveillance technology with our new 4MP IP Intensifier cameras! These are IN STOCK and ready to ship TODAY! For more information, please contact your local SES Branch or visit www.sesonline.com.