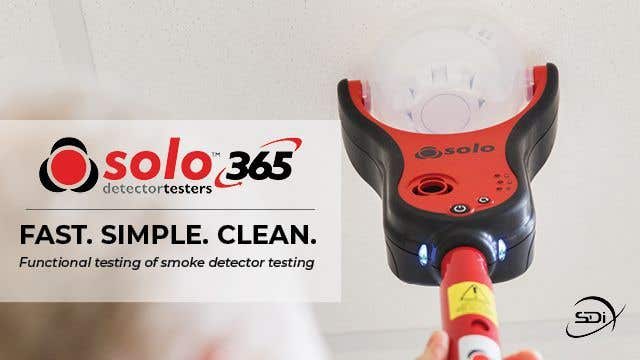 The Next Generation of Smoke Detector Testing: Functional testing with the Solo 365 electronic smoke detector tester
Smoke detectors must be tested every year to make sure they are functioning properly. As specified by NFPA 72, testing should be a smoke entry test, which shows that the detector can detect smoke and in turn, set the detector into alarm. Reviewing a manufacturer's recommendations and instructions when preparing for a test is equally important.
Some detector manufacturers list using too much smoke or testing with the incorrect product as a danger to a smoke detector. Furthermore, duration of spray, angle of aerosol container, distance between the detector and aerosol container, and environmental conditions can interact differently with different detectors – particularly in today's environment of increasingly complex and sophisticated sensors. Overcoming these challenges has become easier than ever using electronic smoke detector testers – the next generation of smoke detector testing.
Why use an electronic smoke detector tester?
Electronic smoke detector testers such as the Solo 365 deliver smoke via (Solo ES6) smoke cartridges for fast, simple, and clean testing. Smoke is generated by non-pressurized, non-hazardous, and environmentally friendly cartridges which offers easy storage and transportation. This makes it the ideal test tool for technicians on the go!
The Solo 365 offers a new standard for functional testing of smoke detectors and is built to withstand the demands of regular use. With an increasing number of sophisticated detectors now available, the Solo 365 is engineered to be compatible with detectors of all shapes and sizes. Smoke generation starts and stops using a proximity sensor, which activates as the detector enters the cup. This means that it is quick to test, fast to clear, and almost impossible to over apply consumables which minimizes smoke wastage and detector contamination. For compatibility with non-standard detectors and ASD testing, a "delayed start" mode can easily be activated. Its slim design also allows for the tester to be used in areas that are tight or hard to access and its automatic LED light allows for easy testing in dimly lit areas.
Another added benefit is that repeat alarms are eliminated with the clearing mode. Once activated, air is blown around the detector – clearing any lingering smoke through a vent that is located in the test cup. After clearing, the unit will return to idle state in preparation for the next test.