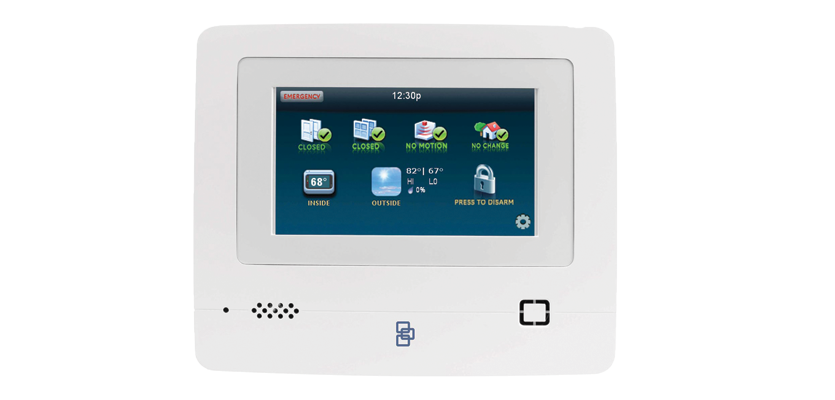 The Simon XTi-5 Version 2 System Can Help You Stay Secure, No Matter What!
Interlogix is excited to announce the release of the new Simon® XTi-5 Version 2 panel and Simon® 5" Version 2 interactive touchscreen (ILX 80-632-3N-XT5). Featuring a selectable user interface which matches the Alarm.com interactive services mobile application in color, style, and icons, the Simon Version 2 products simplify the experience for both alarm suppliers and end-users. Up to 80 zones are supported by the new Version 2 panel, helping to meet the needs of a wide array of applications. When used in conjunction with the panel, the interactive touchscreen is also able to support up to 80 zones.
These Simon Version 2 products are powered by Alarm.com and are deeply integrated together to provide end-users with advanced interactive services. Services include on-screen garage door support which can be managed locally from the panel or remotely via the Alarm.com web-based portal or mobile application.
Compatibility for the Simon XTi-5 Version 2 panel includes the 600-1048-XT-LTE modems using the latest version of firmware (191C). Existing modems with an earlier firmware version (189A) will receive an over-the-air-upgrade, which will be made available by Alarm.com.
Interlogix will be releasing a new line of encrypted sensors in combination with this launch. The TX+ encryption protocol provides encrypted wireless communication to the Simon XTi-5 Version 2 control panel and ITI-319 protocol is supported for wireless communication to all Interlogix control panels and receivers.
The new Simon Version 2 products, TX+ encrypted wireless sensors, and other great alarm supply products from Interlogix are available through Security Equipment Supply, your local low voltage supplier.