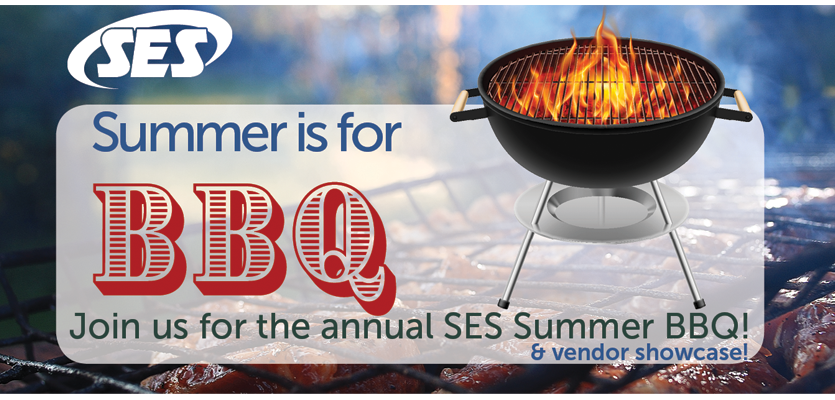 Do you like barbeque, ice cream, and tons of free stuff? How about getting to check out some of the coolest new technology from Dahua, Honeywell, Interlogix, Vanco, and more? If the answer is yes to any of the above, you should come to the annual SES summer BBQ and Vendor Showcase!
What is the SES Summer BBQ?
Enjoy some of the best local BBQ around
Ice cream trucks on site to serve your favorite frozen treats
Giveaways include: a kayak, Yeti Cooler, fishing rod and reel with fully loaded bucket, and even a 5' x 10' cargo trailer!
Interact with knowledgeable vendors about the newest technology and products available
Events held at all 13 Security Equipment Supply locations for your convenience
Trailer Giveaway
Would having a trailer to haul all of your low voltage supplies benefit your organization? We will be giving away 5 x 10 cargo trailers to thirteen lucky customers at the end of our Summer BBQ Showcase! Every $150 spent on products from one of the sponsoring vendors listed below between May 1, 2019 and June 30, 2019 will earn you one entry to win a 5' x 10' cargo trailer! Winners will be announced at the conclusion of the contest on June 30th so get those orders in while you can!
Sponsoring Vendors:
DSC
ELK Products
Inaxsys
Trendnet
Southwire
Golden State Instruments
You Want More Prizes?
Security Equipment Supply will be giving out even more prizes during each BBQ event this summer! One lucky customer will win our grand prize at each BBQ event, taking home a Kayak & Yeti Pangea Drybag! Second place at each event will be taking home a fishing rod and reel and Yeti fully loaded bucket. Third place winners will receive a Yeti cooler. To be eligible to win these prizes just show up at one of our thirteen BBQ showcases and interact with our friendly vendors!
When and Where?
The Security Equipment Supply summer BBQ events will be hosted from 11:00 am - 2:00 pm during the months of May and June and will be held at each of our 13 branches across the nation.
5/7/2019 - Austin, TX
5/9/2019 - Dallas, TX
5/14/2019 - St. Louis, MO
5/15/2019 - Lenexa, KS
5/16/2019 - Omaha, NE
5/21/2019 - Memphis, TN
5/23/2019 - Nashville, TN
6/11/2019 - Detroit, MI
6/12/2019 - Chicago, IL
6/13/2019 - Milwaukee, WI
6/18/2019 - Indianapolis, IN
6/20/2019 - Louisville, KY
6/26/2019 - Colorado Springs, CO
Keep entering to win by stocking up on low voltage supplies at Security Equipment Supply. We look forward to seeing you this summer! Come enjoy the free BBQ and Ice Cream while you enter to win some cool prizes!