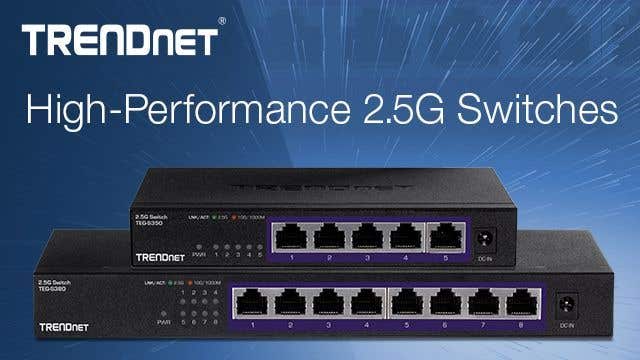 Ultra-Fast 2.5G Networking with TRENDnet
Easily expand your network's bandwidth and reduce digital bottlenecks with TRENDnet's budget-friendly 2.5G Switches, the world's first 2.5G unmanaged network switches. Conveniently use your existing Cat5e or better cabling to achieve 2.5Gbps speeds over your network.
The 8-Port Unmanaged 2.5G Switch (TEG-S380) and the 5-Port Unmanaged 2.5G Switch (TEG-S350) are additions to TRENDnet's growing Multi-Gigabit Networking Solutions family. Both switches include 2.5GBASE-T RJ-45 ports, which allow users to achieve up to 2.5Gbps over existing Cat5e (or better) cabling. TRENDnet's new 2.5G switches are cost-effective means of increasing a network's throughput, and helping to reduce or eliminate network bottlenecks.
These multi-gigabit switches also feature a durable metal housing, as well as a fanless design to eliminate distracting operating noise. For installation flexibility, the 2.5G switches are conveniently constructed to be mounted on the wall or placed on a desktop. These TRENDnet switches are IEEE 802.3bz compliant; they are also backward compatible with legacy technology hardware. No special configurations are required for these switches to connect and network devices to high-speed 2.5G Ethernet.
TRENDnet has also launched its 2.5G PoE+ Injector (TPE-215GI), one of the first multi-gigabit PoE+ injector available in the market. Additionally, TRENDnet multi-gigabit solutions also currently include PCIe Network Adapters, such as the 2.5GBASE-T PCIe Network Adapter (TEG-25GECTX), and USB-C to Ethernet Adapters, such as the USB-C 3.1 to 2.5GBASE-T Ethernet Adapter (TUC-ET2G).
8-Port Unmanaged 2.5G Switch, TEG-S380
• 8 x 2.5GBASE-T ports
• Backward compatible with 10/100/1000Mbps devices
• 40Gbps switching capacity
• Product page: www.trendnet.com/products/TEG-S380
5-Port Unmanaged 2.5G Switch, TEG-S350
• 5 x 2.5GBASE-T ports
• Backward compatible with 10/100/1000Mbps devices
• 25Gbps switching capacity
• Product page: www.trendnet.com/products/TEG-S350