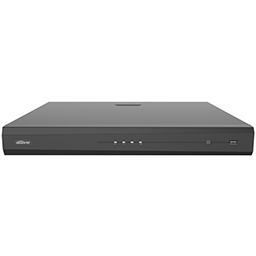 A Network Recorder Suited for Any Video Surveillance Project
The Uniview Tec NR16P2 is a 16-channel network video recorder (NVR) with H.265 compression, providing best in class recording and storage performance. This network recorder will support recording up to 12MP images and display up to 4K resolution via HDMI output.
The Uniview NR16P2 is ONVIF Profile Series Compliant and contains powerful video analysis features including People Counting, Scene Change, Audio Detection, and Cross Line Detection.
5 Reasons to Consider Choosing Uniview Tec Video Surveillance Products:
1. Install and program a Uniview Tec video surveillance system in as little as 30 minutes
Once you see how simple the NR16P2 network video recorder is to set up you will be asking yourself why you have not been installing video surveillance for years. Easy plug and play functionality with automatic device discovery and display makes programming quick and easy.
Upgrade the amount of cloud storage for the Uniview Tec NR16P2and cameras at the click of a button. The system automatically detects the latest firmware available.
2. The Uniview NR Contains an embedded PoE switch for all video channels, up to 240W.
The NR16P2 also has long range PoE capability of up to 825ft when using Cat5E or Cat6 cable.
3. Innovation, research, and network security are all extremely important values to Uniview Tec
You will always get high quality products at a great price when choosing Uniview Tec for your video surveillance installs.
4. Flexible storage options available to fit the size of any project:
2TB, 4TB, 8TB, and 16TB models available at a Security Equipment Supply near you!
5. Uniview Tec provides a cost effective and high quality replacement for old technology.
Here is a list of SES part numbers for your ordering convenience:
ATV NR16P22T – 16 Channel, 2 TB HDD
ATV NR16P24T – 16 Channel, 4 TB HDD
ATV NR16P28T – 16 Channel, 8 TB HDD
ATV NR16P2-16TB – 16 Channel, 16 TB HDD
Click here to register for SES emails and stay informed!
Installation Tips:
1. The default password for the network recorder is 123456.
2. We recommend adding surge protection for each camera installed. A UPS such as the Minute Man Line Interactive UPS (MIN ETR1000LCD) would be the most cost effective option
3. Make sure you have everything you'll need to simplify the installation and set up:
Ethernet Cables
RJ45 ends
Video Monitor
Computer to access Easy Tools software
Cell Phone to access Easy View app
Security Equipment Supply is a leading wholesale distributor of low voltage video surveillance supplies with 13 branches located across the United States. Sign up to become a customer and start installing Uniview Tec video surveillance products today!