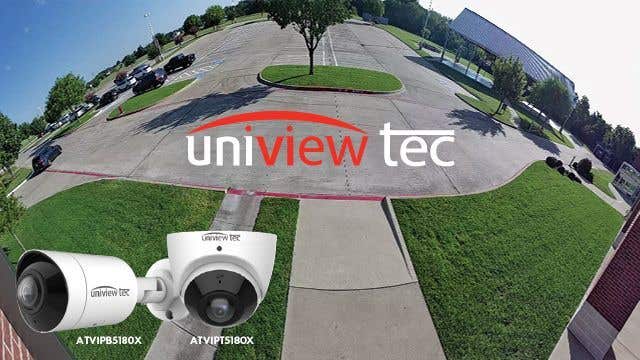 Uniview Technology Launches New 5MP Wide Angle Lens Cameras
Uniview Technology (uniview tec), the Secure Alternative for smart, innovative and feature rich network video security solutions, announces the launch of two new 5MP cameras with panoramic 180° wide angle viewing.
The ATVIPB5180X Bullet and ATVIPT5180X Turret cameras are each equipped with 1.68mm wide-angle fixed lens, providing a panoramic 180° horizontal viewing angle. Exceptional video quality is provided by a 5MP, 1/2.7" CMOS sensor with 2880 x 1620 resolution up to 30fps. Smart IR LED lights on each model are equipped with Auto or Manual On / Off controls and automatically adjust the intensity to avoid over-exposure while providing illumination during complete darkness up to 66'. The ATVIPB5180X and ATVIPT5180X each include robust features such as TRUE Day/Night and 120dB Wide Dynamic Range for balanced images in challenging lighting conditions; super-efficient H.265 compression for drastically reduced bandwidth and storage requirements for those applications demanding high resolution recordings; wide operating temperatures ranging from -22°F to +140°F; and the ability to handle a wide voltage range tolerance of +/-25% and lightning surges of up to 6KV. In addition, each come with 3-Axis adjustable angle settings and an IP67 weather resistance rating for harsh conditions, while the ATVIPT5180X also has the vandal resistance rating of IK10.
As with many of uniview tec's cameras, both the ATVIPB5180X and ATVIPT5180X include Intelligent Perimeter Protection such as cross line and intrusion detection, with a smart intrusion prevention technology for significantly reduced false alarms when focusing on humans and motor vehicles. In addition, both models are Cloud Upgradable with connection to a uniview tec NVR and offer Automatic Network Replenishment (ANR) with a Micro-SD card slot capability up to 256GB.
So check out the growing line of intelligent and feature rich products Uniview Technology has to offer your business, church, school or home. uniview tec ---the Secure Alternative for affordable network video security product and service solutions.