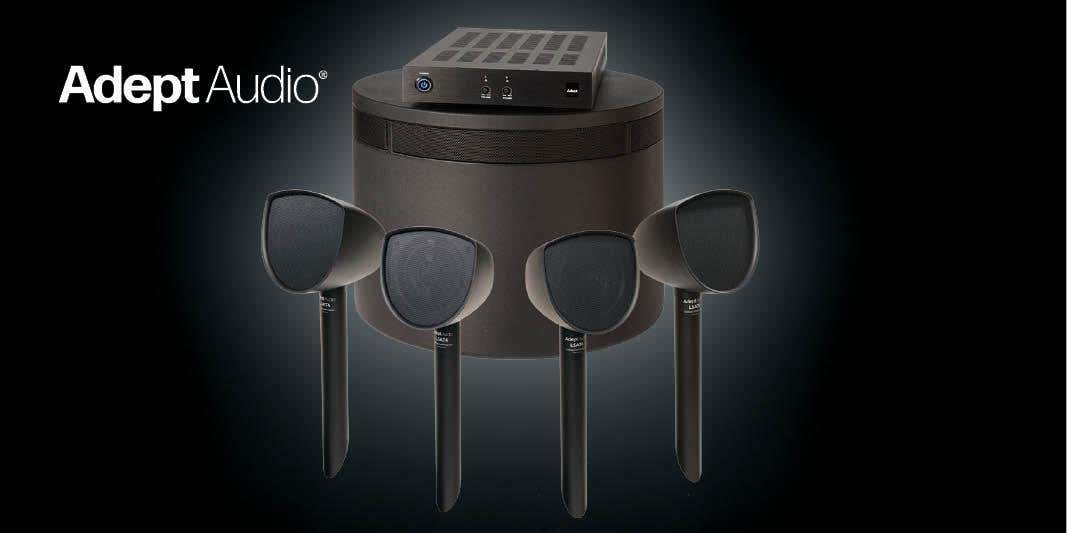 Can an Outdoor Speaker System Sound as Good as an Indoor System?
The SoundScape outdoor speaker system from Adept Audio is designed to sound as good as an indoor system.
Adept part number LNDSCP is a four-satellite speaker system that includes everything needed for easy installation. The system is designed to be plug-and-play and easily expandable, as well as ruggedly built to last.
A Plug-and-Play System
The Adept SoundScape LNDSCP outdoor speaker system features an ultra-contemporary design and is comprised of four 4-inch satellite speakers, one 10-inch subwoofer and one 200W two-channel amp.
The 200W two-channel amp has six DSP presents configured by Adept's head acoustician. It can power up to eight satellites (four included with the system) and includes a limited two-year warranty.
The 10" passive subwoofer can be used in or above ground. It has a sealed enclosure for low bass extension and includes a limited lifetime warranty.
Each of the four satellite speakers features 4-1/4" IMP woofers and ¾" PEI dome tweeters. Frequency response is between 120 Hz and 20kHz. The speakers have a matte black finish and 11" ground spikes, as well as a limited lifetime warranty.
The Adept SoundScape LNDSCP outdoor speaker system is available at your local Security Equipment Supply (SES) branch. Security Equipment Supplier is a leading electronic wholesale distributor. We handle residential/ commercial audio equipment, as well as alarm, access control, video surveillance and fire protection equipment.
SES has 13 fully stocked branches across the U.S. and a dedicated team of account representatives ready to assist you with all your audio and other electronic equipment needs.