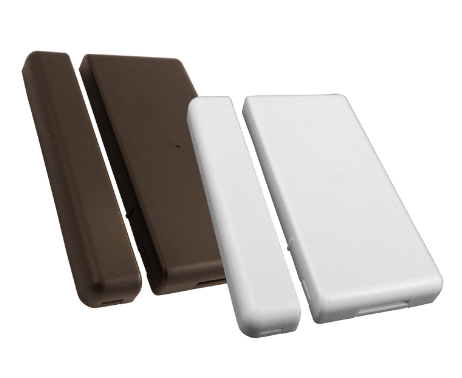 ELK 6021 - Ultra-Thin Wireless Alarm Sensor from Elk Products
Elk Products™ continues to expand their sensor devices for their proven two-way wireless local burglar and fire alarms. A unique feature of the Elk wireless system is that alarm and trouble signals generated by a device will be acknowledged by the receiver, eliminating repeated transmissions which reduces installation and testing time, saving time and money for installation companies while increasing battery life.
The ELK 6021 is the new ultra-thin Mini Window sensor, white or brown, perfect for protecting double hung and casement style vinyl or wooden windows. Powered by the readily available CR2032 lithium battery, the 6021 has a built-in reed switch with a maximum gap of 3/8" from the magnet to the sensor. Extra magnets are available in either white or brown to provide flexible installations where customers may want their windows open, but still protected by the alarm system.