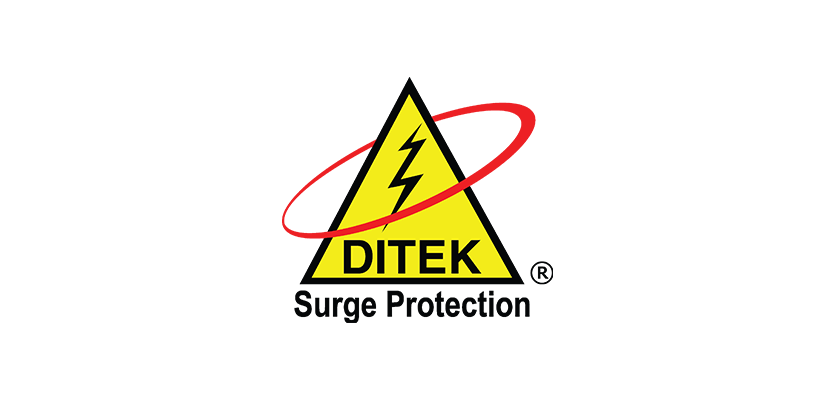 How Can a Client's Sensitive Electronics Be Protected Against Power Surges?
While the availability of AC power is a given for most client homes or facilities, occasional power outages are quite common in some areas. PCs, storage drives, and other critical network devices can be readily damaged when the AC power returns, as there is often an initial surge when the power is restored. These surges can damage computers and such devices even if the device isn't currently turned on if the device remains connected to an AC outlet.
Dealers should consider offering their new and existing customers Surge Protection Devices (SPD) to protect their vital computer devices from electrical surges. The Ditek DTK-120HW is a simple-to-install surge protector that can protect any downstream electrical devices such as alarm panels and computers.
Ditek states in its installation instructions that these devices should be installed by a qualified electrician, and all national and local electrical codes should be adhered to when being installed.
There are three potential applications where the Ditek DTK-120HW surge protector can be used:
· Alarm/Access/Fire panel protection
· Electrical Panel installation – when protected by a 20 Amp breaker
· Electrical junction box Installation for protection of a specific downstream AC circuit, such as the power feed into a computer room
When connecting the DTK-120HW to protect an alarm panel the specifications call for connections to the surge suppressor that are at least three feet long. This length allows for sufficient reaction time of the DTK-120HW to electrically divert power surges.
As clients increasingly add electronic devices to their home or business networks, protecting their AC power is a critical service that can protect the client's most sensitive devices and data storage.
Security Equipment Supply (SES) is a leading wholesale access control, security, smart home and audio/video equipment distributor in the U.S. with 40 years of experience serving installation professionals. We carry a wide range of equipment, and our knowledgeable salespeople can help dealers with selecting the right equipment for their installations.