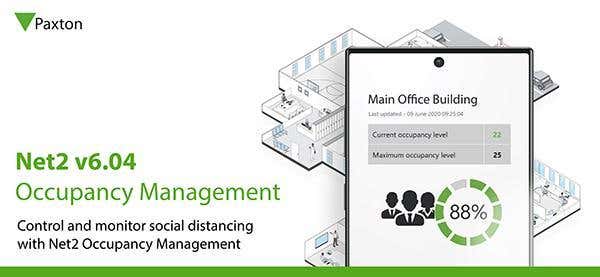 New Net2 Thermal Scan Integrations
Paxton recently released the latest version of Net2 – v6.04. Featuring Net2 Occupancy Management, it allows you to limit the number of people in any given area; either barring access or sending an email or text to the building manager when a space nears capacity.
Occupancy Management* with Net2 v6.04:
Ensure users maintain a safe social distance by setting and controlling the maximum number of people in any given area
Real-time visual reports - see live occupancy levels in a clear, web-based visual report from smartphone, tablet, PC or widescreen wall display
Dynamic control of entry permissions - set alerts and prevent user access when maximum capacity is neared or reached
Simplified area management - set and manage multiple areas simultaneously, with specific occupancy levels per area
Support continuous flow of people movement with one-in-one-out user access when people numbers are high
For those of you looking for thermal scanning capability, Paxton also tested a range of thermal scan hardware referencing solutions from Hikvision - Face Recognition Terminal (Minmoe), Dahua - Thermal Temperature Station and ZKTeco – SpeedFace to help ensure health and wellbeing in high security areas and identify people that could be at risk, quickly. Net2 can work with most thermal devices that utilize a Wiegand output. Contact your local SES branch today to learn more about the new Net2 Occupancy Management capabilities, Paxton thermal scan integrations, or Paxton Access Control products.