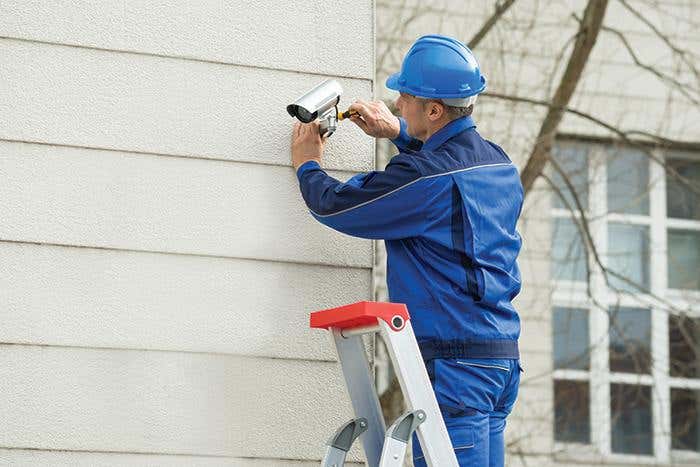 Safety First for Security Technicians
"Safety First" is a good motto for lots of things, including security system installation and maintenance. At this time, as we face the COVID-19 pandemic, the first thing that may come to mind in connection with Safety First is to don a mask and gloves before visiting a customer premises. Safety measures such as those are designed to avoid spreading the virus and they're very important. But we also shouldn't overlook more traditional guidelines for Safety First.
A range of regulations from the Occupational Safety and Health Administration (OSHA) apply to security technicians. Many OSHA regulations are aimed, in large part, at the construction industry – nevertheless, security dealers also are required to comply with them.
This blog post isn't meant to provide comprehensive information about these regulations, but instead to serve as a reminder of some of the most important requirements for security technicians, such as:
Ladders- Standing on the top rung of a ladder is against OSHA requirements, which also require ladders to be secured at the top and bottom and to be placed one foot from the wall for every four feet of height.
Electrical Safety Requirements- When technicians need to take the cover off an electrical outlet or mount a thermostat, they are required to turn off the breaker to the circuit and tag potential electrical hazards to let others know they are working on the circuit.
Fall Protection- Personal fall arrest systems are required for technicians when they face a fall hazard greater than six feet. When working on a roof with a skylight, the skylight must be protected with a railing, skylight screen, grill work or slat work. Whichever option is chosen must meet certain specifications.
Personal Protection Equipment- Protective eyewear is required whenever technicians are using any equipment that could cause flying debris, such as when drilling. Hearing protection may be required when technicians test loud alarm or fire system sirens. Hard hats are required when working in areas where there is a possibility of head injury from falling or flying objects or in certain other situations.
Ensuring technician safety should be motivation enough for security dealers to follow OSHA guidelines. But for added motivation, OSHA regulations call for fines that can run into tens of thousands of dollars for safety violations.
Security Equipment Supply is a leading wholesale alarm equipment distributor in the U.S. with 37 years of experience serving security dealers. We carry a full line of personal protection and safety equipment for security technicians. You'll find it on our website at sesonline.com. Go to the "Brands" tab and then select "Tools and Hardware" to find our personal protection and safety equipment offerings.