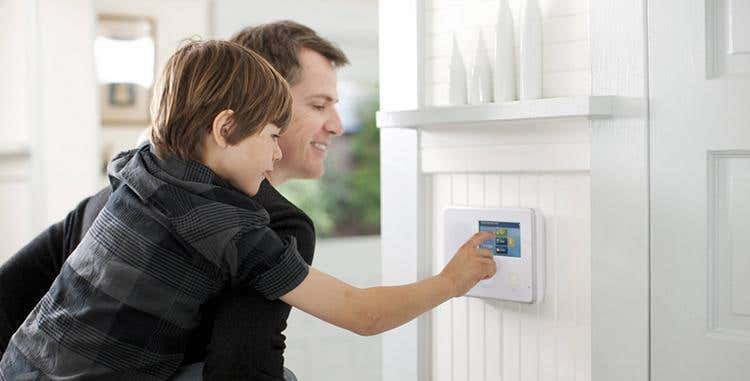 The 2GIG GC2e Intrusion Panel
The 2GIG GC2e-345 Wireless Intrusion Security Panel from Nortek Control provides the perfect foundation for any residential or commercial security installation. The panel connects to most home automation devices using the Z-Wave Plus protocol and provides increased security through the use of encrypted sensors.
Product Overview:
So, what can it do? The 2GIG GC2e can support up to 60 wireless zones, 8 key fobs, 4 wireless keypads, 1 hardwired zone, and allows for up to 64 unique user ID codes. The GC2e is powered by a 1.7A 14VDC transformer that comes included with the panel, however you will still require some cable to connect to the transformer.
Enhanced Security & Automation Features
The two biggest advantages of the 2GIG GC2e over the old GC2 panel are the use of Encrypted Sensors and the addition of Z-Wave Plus. Because the new sensors are encrypted, they speak to the alarm panel in their own unique code which helps prevent the end-user's security system from being hacked, while reducing the risk of takeovers from your competitors.
The addition of the Z-Wave Plus protocol to the GC2e panel allows for increased battery power, longer range, and more functionality in home automation devices. You can learn more about Z-Wave and Z-Wave Plus here if you're interested.
Benefits of the 2GIG GC2e
The new encrypted sensors help reduce the risk of takeovers and add provide increased security
Worry free communication with central station thanks to best in class two-way voice quality
Supports legacy 345 sensors to make upgrading a system easy
Features You'll Love:
5" Interactive Touch Screen
Backwards compatible with all GC2 sensors for easy upgrades
Compatible with Alarm.com and SecureNet
The 2GIG GC2e intrusion security panel is available for purchase at your local SES. SES - Security Equipment Supply is a distributor of low-voltage intrusion security, access control, video surveillance, home automation and more with 13 locations across the United States. Become a customer today to gain access to pricing and our extensive low-voltage inventory!