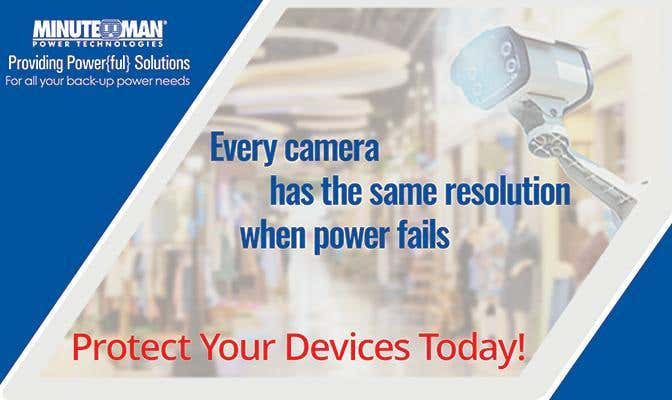 Why the Right Power Protection Completes any Security System
Most business owners and administrators would agree that a functional security system is at the top of the priority list for their organization. It's surprising, then, that a vast number of these systems in the field have no backup power protection in place, and risk failure when power problems occur.
A properly implemented power protection system eliminates the possibility of a security system outage or damage due to minor problems.
Without Power, There is No Security
What are some considerations when backing up a security system?
What is the total power load of the application?
Understanding the total power load of your application will determine the type of UPS system required to keep your devices up and running. Determine what devices need protection and are deemed most critical.
What is the required runtime for your application?
Depending on the priority of your security systems, not all devices will need long runtimes. However, knowing the importance of protecting and keeping your devices functional, always, is crucial in determining the length of runtime needed to protect your overall application.
Minuteman Power has made choosing the right UPS and desired runtime easy by offering our easy-to-use sizing tool.
Minuteman's product line has become a favorite of both users and installers of security systems, thanks to an unbeatable combination of tailored solutions, helpful features, and incredible value. You can purchase Minuteman Power products at your local Security Equipment Supply branch.
Keeping everyone secure, even when power is out, should be a high priority. Without power, there is no security.
Minuteman surge protection equipment is available at your local Security Equipment Supply (SES) branch. Security Equipment Supply is a leading low-voltage alarm distributor. We carry residential/ commercial alarm equipment and fire protection equipment, as well as access control and video surveillance equipment. SES has 13 fully stocked branches across the U.S. and a dedicated team of account representatives ready to assist you with all your security and life safety equipment needs.