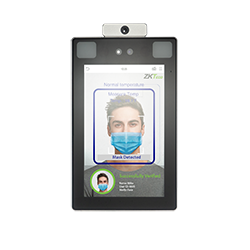 ZKTeco Touchless Biometrics with Elevated Body Temperature Detection
Easily detect elevated body temperature and deny users door access!
The SpeedFace+ access control reader offers palm and facial recognition to provide a hands-free solution for user authentication. Applications include access control, visitor management, event management, time & attendance and more.
Body Temperature and Mask Detection
The SpeedFace+ readers also provide fast and accurate body-temperature measurement (accurate up to 0.6° F from up to 18" away) as well as the ability to detect if the user is wearing a mask. These access control readers can even deny users door access if no mask is present or an elevated body temperature is detected.
With the current global situation, we are all more conscious than ever about preventing the spread of germs. Having the ability to identify users not wearing a mask or with high body temperatures can help protect hospitals, schools, commercial office buildings, airports, food processing facilities while keeping these essential facilities open.
SpeedFace+ access control readers utilize a powerful embedded thermal camera and the latest palm, face and fingerprint recognition algorithms from ZKTeco.
SpeedFace+ Features:
Adjustable temperature settings for both high and low temperature thresholds
Integrates with Biosecurity Software allowing real time event monitoring and the ability to determine high and low temperature thresholds remotely
Calibration based off of current room temperature
Authentication for users from up to 8 feet away
Elevated body temperature detection from up to 18 inches away – accurate up to 0.6° F
Recognize faces in darkness as well as bright sunlight thanks to a Dual-lens IR & VL camera
Both models store & match up to 5,000 palm templates
Model ZKA SF1008+
8" programmable touchscreen display
Stores and matches up to 50,000 face templates
Model ZKA SF1005-V+
5" programmable touchscreen display
Stores and matches up to 6,000 face templates
Additionally stores and matches up to 10,000 fingerprint templates
The ZKA SF1008+ and ZKA 1005-V+ SpeedFace+ readers from ZKTeco are available at Security Equipment Supply, your go to access control distributor. Contact your local SES branch for more information or pricing today!