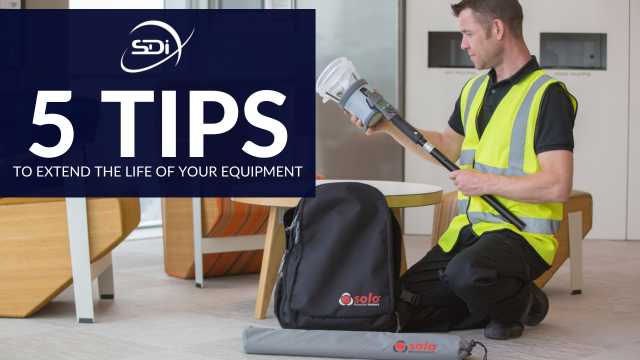 5 Tips To Extend The Life Of Your Equipment
SDi provides reliable solutions for test and inspection equipment. Properly caring for your equipment is incredibly important and can extend the life of your product, providing many years of service. To extend the life of your product, SDi recommends that you follow these tech tips.
1. USE CAUTION WITH YOUR SOLO POLE
Be sure to slowly extend or retract the pole and make sure that the locking buttons are engaged correctly. Do not allow a section to drop unassisted as this could damage the equipment or cause a loss of balance. When adding extension poles, place the first extension pole foot on the floor, hold the poles vertically, ensure all locking buttons are engaged correctly, attach the test tool and first extension with the test tool to the second extension, and repeat if an additional extension is required. Raise each section of the telescopic pole in turn to the required height. It is strongly advised not to use more than three pole extensions at a time. Additionally, do not lean your Solo pole up against a wall. Be sure to return your pole to the pole bag when it is not being used.
2. CLEAN THE TEST CUP
After a full day of testing, the test cup on your equipment can collect dust and debris. It is recommended to regularly wipe down your equipment with a slightly damp lint-free cloth so that it continues to operate at peak efficiency. Do not use detergents, cleaning materials, or solvents to clean the product.
3. KEEP YOUR BATTERIES OUT OF THE HEAT
Exposing your Solo battery baton to an external heat source or direct sunlight can cause the battery to overheat or potentially deform. Do not charge your battery in the heat or insulate it when charging (this includes charging a Solo battery baton while it is stored in the battery sleeve of a Solo 610 bag or placing objects like coats over the top of a charging battery). Disconnect the battery if it becomes too hot during a charge.
4. SCHEDULE ROUTINE CALIBRATIONS
To make sure that your equipment continues to provide the most accurate readings and scores, it is important to schedule routine calibrations. It is recommended for Cell Checker to be calibrated every 2 years, Bedrock devices to be calibrated every two years, and Trutest to be calibrated every year. Routine service and calibration can be scheduled by completing an RMA form on SDi's website at sdifire.com/RMA
5. PROPERLY CHARGE YOUR BATTERIES
It is important to charge your batteries regularly. Additionally, some modern vehicles have stop/start engine technology that can also cause a charging Solo battery to overheat as the stopping and starting of the vehicle engine will cause the charger to constantly cycle (turn the charger off and on), causing multiple fast charge cycles at a high current rate which can cause the Solo battery to overheat. If you are charging a Solo baton with a Solo 726/727 charger in a vehicle with stop/start technology, please observe the charger LEDs and disconnect if the Solo battery becomes hot to touch. Alternatively, it may be safer to not charge in a stop/start vehicle and charge using a power outlet only.