SES ADDS ADEPT AUDIO
Adept is a new premium brand that has built some great sounding, good looking and easy to install architectural speakers, indoor/outdoor loudspeakers and dual-drive digital subwoofers.
Featuring Sonic Performance, Exquisite Design Cues, No Tool Trim Out.
Premium Brand of Architectural and Indoor/Outdoor Speakers Plus Subwoofers
The Brand is Focused On Residential and Commercial Dealers Who Install Sound Systems
Adept Is Designed and Built By Origin Acoustics
Adept Has All New Speaker Baffle Tooling
The Adept Brand Has Its Own Unique Loudspeaker Design Criteria
Woofers / Tweeters & Networks are Purpose-Built for Adept
The Adept Trim-RingTM Is The Really Big Deal Here
Adept Is Not Origin Acoustics, It Is a Brand Owned by Origin
Adept Flagship Speakers
"SES is very excited about this new loudspeaker brand," said John Hill, Director of Sales and Marketing at SES. "With their sonic performance and ease of installation, we believe Adept will become an important part of the SES AV strategy, starting right now and in the years to come."
Advantage Adept: Some Very Big Differentiators
A Great Sounding, Timbre-Matched Loudspeaker Line For Mixing And Matching
Plays Louder With Wider Dynamic Range Than Wireless Speakers
Designed To Exceed Hi-Res Streaming Media Demands
Voiced In-House By Veteran Architectural Acousticians
10 Independent Reviews Available Now
The Adept Trim-Ring™ - A Unique Safety Feature
The Adept Trim-RingTM is Is Patented
Only Adept Fits Into Our Proprietary Trim-Ring
One Trim–Ring Fits All 6 ½" and 8" Ceiling Speakers
Trim-Rings Ship in Every Ceiling Speaker Carton
Easy to Install - No Tools Needed - Faster Trim-Out
One Hand Installations - Safer On Ladders
Allows Dealers To Do In-Home Demos
Makes It Easy To Compare Adept vs Adept
Another Huge Differentiator – The Adept Look & Feel
Consumer Studies Indicate Product Design is Next To Sonic Performance
The Adept Look Will Help Break Down Barriers and Close More Deals
Adept Speaker Baffles Have Striking Matte / Gloss Offsets
Highly Differentiated Product and Packaging Designs
Gloss Red Beauty Cartons Support Quality Position
Exquisite Sonic Performance
"Knowing that Adept was designed and voiced in-house at Origin Acoustics says a lot." said John Hill, SES Director of Sales & Marketing.
"Our dealers are thrilled that we added Adept Audio," Hill said. SES has long-standing relationships with AV dealers who care a great deal about sonic performance"
Dual-Drive Digital Subs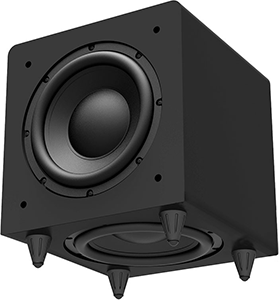 The Adept sub design has a front-firing woofer and down-firing passive radiator, built to deliver massive deep bass from a compact enclosure.
Commercial / Residential Speakers
IO80-B / IO80-W
8" 3-Way 70V/4-Ohm Indoor Outdoor Speakers
8" Polypropylene Woofers
3" Polypropylene Midranges
1" Swiveling Aluminum Tweeters
Power Handling: 150W
Freq Res: 38Hz-20kHz
Sensitivity: 90dB, 1W1M
Available in Black or White
3-Way design with front-mounted 70V/4-Ohm adjustable tap transformer for the ultimate in powerful indoor / outdoor commercial or residential sound systems.
I080 Indoor/Outdoor Speakers
8" Poly Woofers, 3" Poly Mids & 1" Pivoting Aluminum Dome Tweeters. The IO80 is a superb backyard speaker, delivering balanced sound and ample amounts of bass even at high volumes, and without sounding harsh or distorted even with loud rock and hip-hop.
A pair would be plenty enough to power a party in a typical backyard. It was even able to shake the couch during the speaker testing, which is impressive for an 8" woofer. The midrange, especially, sounds relaxed, natural and clean even at high volume, something few outdoor speakers accomplish. Dispersion is excellent—when you walk around, the sound of the speaker changes very little.
Superb backyard speaker, delivering balanced sound and ample bass even at high volumes, and without sounding harsh or distorted even with loud music
Very flat frequency response at -15° vertical reference axis up to 15 kHz
Bass extension down to about 40 Hz
Tap switch for use with 70/100-volt systems, plus 4-ohm tap provides impedance of 8 ohms nominal/4 ohms min for standard amps
Broad dispersion for excellent sound whether mounted horizontally or vertically
I080 frequency response (-15°) and impedance
Interested in Adept Audio speakers or other low-voltage products and services available at SES? Become a customer today and see the benefit in partnering with SES first hand!
Internet Policy

Video

Brochure

Laptop Icon

Phone Icon