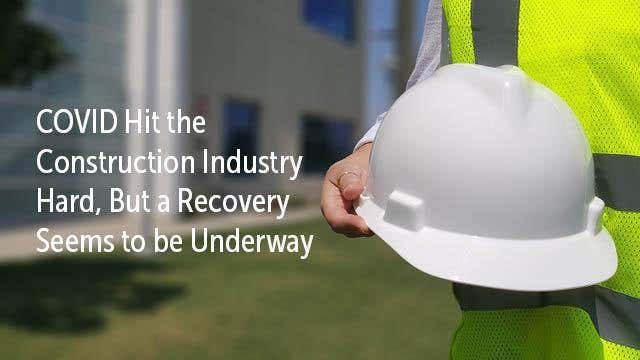 COVID Hit the Construction Industry Hard, But a Recovery Seems to be Underway
When the construction industry booms, it's good news for security dealers, as those new or renovated spaces are likely to need systems. Unfortunately, construction plans took a big hit from the COVID-19 pandemic, but a recovery seems to be underway, as research from the Associated General Contractors of America (AGC) illustrates.
According to an AGC analysis of federal employment data released in late October, only 14 states and the District of Columbia had added construction jobs since February 2020, just before the pandemic was declared a national emergency.
States that saw increases in construction employment include Utah, Washington, North Carolina, Idaho and South Dakota. States where construction employment was hardest hit include Louisiana, Wyoming, New York, Texas and California.
Residential Construction Jobs See Recent Gains
It's important to note, though, that the aggregate construction job data tells only part of the story.
As of August, residential construction employment had increased 2.6% since February 2020 and 5.3% since August 2020. Nonresidential construction employment is recovering more slowly but is beginning to recover. As of August, nonresidential construction employment was down 5.5% from February 2020 but was up almost one percent in comparison with August 2020.
Meanwhile, construction spending data shows that some industries were hit harder than others by the pandemic. One of the hardest hit industries was lodging, which saw a construction spending decline of 30% between the first half of 2020 and the first half of 2021. Education and office construction also saw relatively high declines of 11% each over the same period. At the other end of the scale, manufacturing and health care construction each saw a decline of only 2% over that period.
Commercial construction was down 3% overall between the first half of 2020 and the first half of 2021, but within that category, warehouse construction was up 9% and retail construction was down 18% -- a telling reminder of the shift away from bricks-and-mortar shopping to online shopping during the pandemic.
What Lies Ahead?
What construction trends should we expect moving forward?
On the one hand, AGC cautions that widespread supply chain delays could slow the pace of construction recovery. On the other hand, the infrastructure bill that was signed into law in November contains billions of dollars that could be used, at least in part, for construction.
According to AGC, the construction industry has more than 733,000 employers and over 7 million employees. The industry typically creates nearly $1.4 trillion worth of structures each year, AGC said.