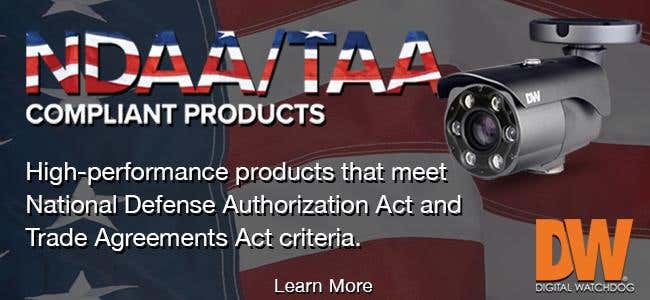 Digital Watchdog NDAA and TAA Compliance
NDAA and TAA compliance is becoming a major topic of discussion for video surveillance installers and integrators in recent months. Some may be asking what makes a product NDAA compliant? What makes a product TAA compliant? How do I select the right compliant manufacturer or product? Digital Watchdog has your back with a short breakdown to help answer these questions and more.
What is NDAA Compliance?
The National Defense Authorization Act, or NDAA was created to address a perceived cybersecurity risk on certain telecommunication and video surveillance services or equipment. This NDAA ban primarily focuses on companies within China, but also extends to manufacturers reselling video surveillance cameras and systems under another vendor brand name.
Ability to claim NDAA compliance is dependent on both the chipset/internal components of the video surveillance devices and the location of the manufacturer.
Examples of NDAA compliant chips:
What is TAA Compliance?
The Trade Agreements Act, or TAA requires the U.S. Government to acquire only U.S made or designated country end products and is intended to foster fair and open international trade. Contractors must certify that each product meets applicable requirements, even products which have been manufactured or "substantially transformed" in the U.S. or a TAA "designated country".
Digital Watchdog manufacturers their TAA compliant video surveillance products in South Korea, Vietnam and in the United States.
You can view the TAA Designated Country list and learn more about Digital Watchdog's NDAA/TAA compliance here
Where to Buy NDAA and TAA Compliant Digital Watchdog Products
You can find many of these NDAA and TAA compliant video surveillance products from Digital Watchdog at your local Security Equipment Supply. SES is a wholesale distributor of video surveillance, access control, intrusion security, networking and more. Give us a call today at let one of our knowledgeable representatives help you determine the perfect NDAA and TAA compliant solution for your next video surveillance job!