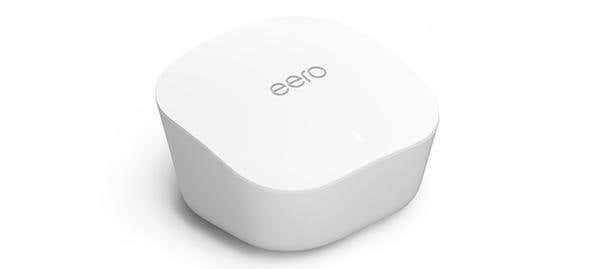 eero Wi-Fi Mesh Network Router
The new dual-band Wi-Fi mesh network router from eero (EER J011111) is quite possibly the easiest network setup and installation you'll ever have to do. You can go from unboxing the units to having your customers browse the web in under 10 minutes!
What makes eero different than other routers?
eero creates a TrueMesh network. What this means is instead of additional units all communicating with one central router, Wi-Fi hops between each eero device to traverse hallways or go around walls. Most Wi-Fi systems only allow for one hop in any direction — so something as simple as a wall can mean that your customer's networking devices can't get the Wi-Fi they need. eero allows for more hops, less speed degradation and no more dead spots!
How does it work?
eero works with any existing modem and internet provider. Start by plugging an eero Ci or eero Pro Ci into the customer's modem. Next the eero app walks you through placement for additional eero devices in their living room, bedrooms, kitchen, or hallways to provide reliable Wi-Fi coverage to every inch of the home. From day one, eero TrueMesh software begins learning from and optimizing for the customer's space, devices, and network usage. This means every device gets a reliable connection throughout their home and you walk away with the extra profit for only 10 minutes of work!
Features of the eero App
View all networking devices and their usage when connected
Check network speed
Diagnose and fix issues
Share your Wi-Fi with others
You can even remotely turn off the network, a great feature for parents trying to limit late night screen time.
Network Security
Many routers require the user to proactively install security patches on their networking devices, but we all know most customers never do that. eero automatically updates its encryption and security protocols to protect your network from the newest threats.
Where to purchase eero?
The eero line of networking devices are all available today at your local Security Equipment Supply, a leading wholesale distributor and low voltage supplier throughout the United States. If you'd like to learn more about eero or be one of the first to know about upcoming sales and promotions make sure to subscribe to our newsletter today!
eero Products:
eero Ci
Dual-Band Router or Extender
Wired Network Speed: 1 Gbps
Wireless Network Speed: Best for up to 550 Mbps
Placement: Tabletop
Part #: EER J011111
eero Pro Ci
Tri-Band Router or Extender
Wired Network Speed: 1 Gbps
Wireless Network Speed: Best for up to 1 Gbps
Placement: Tabletop
Part #: EER B011101
eero Beacon
Extender (requires eero or eero Pro)
Wired Network Speed: N/A
Wireless Network Speed: Best for up to 350 Mbps
Placement: Connects to an in-wall outlet
Part #: EER D011101